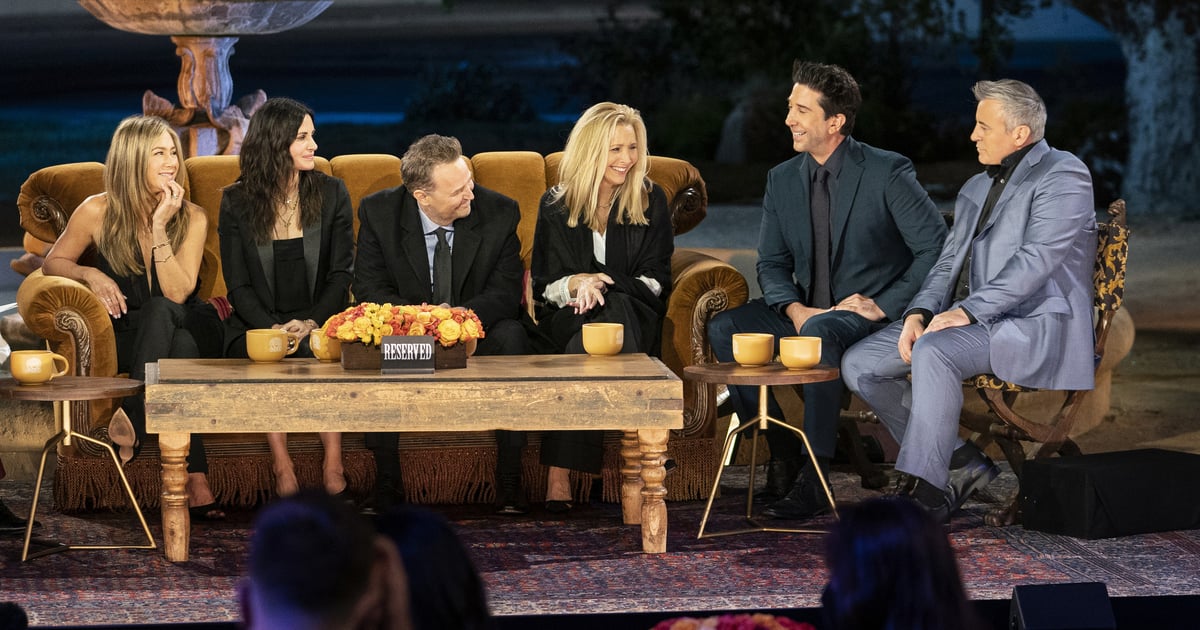 The highly-anticipated Friends reunion, aptly titled "The One Where They Get Back Together," finally had its premiere on HBO Max on May 27, and seeing the cast — Jennifer Aniston, Lisa Kudrow, Courteney Cox, Matt LeBlanc, David Schwimmer, and Matthew Perry — back together on the original Friends set brought tears to our eyes. The nearly two-hour special took fans down memory lane as the group shared their favorite guest stars, backstage secrets, and whether or not they had seen all the episodes. Apparently, Kudrow has not.
Joining them were previous guest stars in character, like Larry Hankin as Mr. Heckles and Tom Selleck as Dr. Richard Burke, and some out of character, like Christina Pickles, Elliott Gould, and James Michael Tyler. There were even a few celebrity fans that shared what the show meant to them, including BTS, Lady Gaga, Mindy Kaling, Malala Yousafzai, Kit Harrington, and David Beckham. To top it all off, the reunion featured some of the most iconic fashions from the show modeled by the likes of Cara Delevingne, Cindy Crawford, Justin Bieber, and even LeBlanc himself. "It was an incredible time. Everything came together," Cox said of the show. "We became best friends. Just the chemistry, the whole thing. It was life changing and forever will be. Not just for us, but for people who watch it and that is just such a great feeling to carry forever."
Ahead, read the biggest revelations from the Friends reunion, which is available to stream on HBO Max now.
You can view the original article HERE.