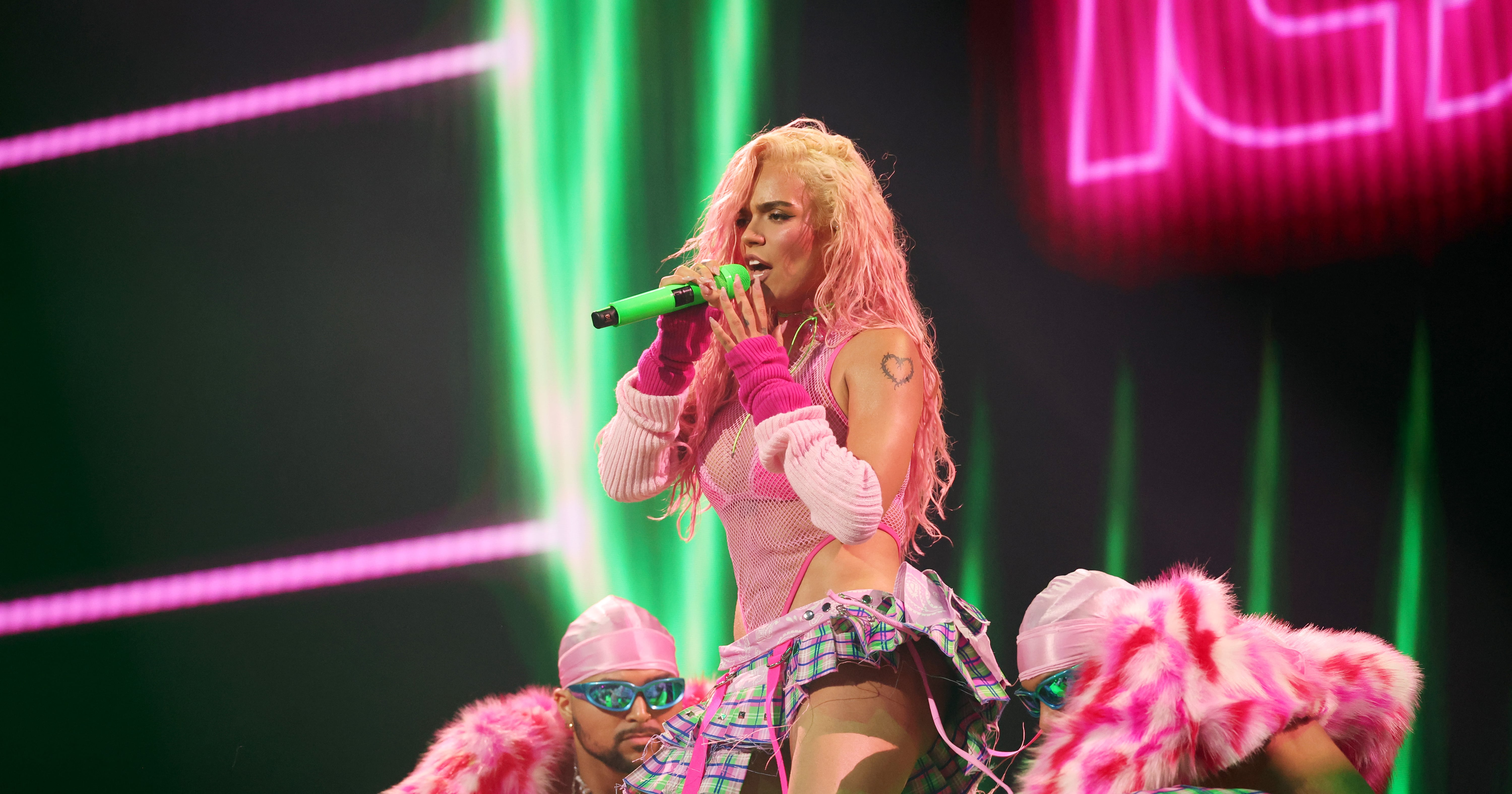 Karol G is at the best moment in her career. Amid dropping the history-making album "Mañana Será Bonito" and selling out stadiums across the United States, the Colombian superstar will receive a special honor at the 2023 Billboard Latin Music Awards: the Spirit of Hope Award award, which recognizes an artist's humanitarian and philanthropic work.
Before becoming Karol G, she was born Carolina Giraldo Navarro in Medellín, Colombia. Her journey to becoming one of today's top Latina pop stars was many years in the making. Karol G came up alongside two guys from her city, J Balvin and Maluma, though her ascent wasn't as quick as theirs. Karol G's tenacity to make it as a woman in a men-dominated reggaetón scene eventually led to her debut album, the aptly titled "Unstoppable," in 2017.
As a gay, Mexican-American man, I remember really gravitating toward Karol G and her fierce anthems like "Ahora Me Llama" with Bad Bunny and "Casi Nada." As a marginalized group, the LGBTQ+ community could relate to and connect with her message of women's empowerment. Her music made me feel more confident in who I am, and no longer did I tone down my queerness.
As a fan who has followed Karol G's career since the beginning, I attended one of the concerts on her "Unstoppable" Tour the following year. Her first shows in the United States were booked in bars and clubs. With every album that followed, the venues on her tours gradually got bigger. Following the COVID-19 pandemic that shut down the world in 2020, Karol G returned a year later with the Bichota Tour, which saw her filling theaters. She then upped the ante and visited arenas with the Strip Love Tour. Toward the end of last year, she had the highest-grossing US tour by a Latina artist in history. And now Karol G's raising the bar as a certified stadium act with her "Mañana Será Bonito" Tour.
Karol G has worked hard to be recognized, not only in the reggaetón genre but in the Latine music industry at large. In 2018, she became the first (and so far only) woman in reggaetón to win the Latin Grammy Award for best new artist. While the careers of some past winners have fizzled out or not reached international heights, Karol G has lived up to the hype of the award. With 2021's "KG0516" album, she solidified her place in global pop culture. Karol G embodied the power of a bold Latina with the song "Bichota." She turned the Puerto Rican slang for "drug lord" into a manifesto for baddies to live their best lives.
Following a very public breakup with Anuel AA in 2021, she also found the power in being vulnerable with the Latin Grammy Album of the Year nominee "Mañana Será Bonito." La Bichota let her guard down and reintroduced Carolina in healing songs like "Mientras Me Curo Del Cora," which is up for Record of the Year. Karol G also realized her dream of teaming up with a pop icon from her country, Shakira, on the fiery ex-takedown "TQG."
She then made history in March with the first all-Spanish LP by a woman to hit No. 1 on the Billboard 200 chart. Karol G is proving herself to be a Latina pop queen who can do it all. She embraced the Tejano sound of one of her idols, Selena Quintanilla, in "Mi Ex Tenía Razón." Thanks to the success of that song and her "Mañana Será Bonito (Bichota Season)" album, Karol G made history in August with 60 overall entries on Billboard's Hot Latin Songs chart, the most by any woman.
Now Karol G will be having a full-circle moment when she receives the Spirit of Hope Award next month. The Billboard Latin Music Awards established the honor in 1996 in memory of Selena, who passed away the year prior. Past recipients include Latine icons such as Gloria Estefan, Ricky Martin, Shakira, Daddy Yankee, and Christina Aguilera. The award will shine a spotlight on the philanthropic work Karol G does with her Con Cora Foundation. Through the organization, Karol G has helped provide opportunities for underprivileged women throughout Colombia.
The Con Cora Foundation previously teamed up with the Internal Action Foundation to give scholarships to women inmates in Bogotá. Women of the families of those inmates were also offered scholarships. Karol G's organization has teamed up with the She Is Foundation as well. Last month, both groups helped Salomé Valencia Lopez, a young girl from Medellín, receive STEM training from the NASA Space Center in Houston. Lopez was later invited to see the Mañana Será Bonito tour stop in that city. With her success and platform, Karol G is inspiring not only hope but also important change for a beautiful tomorrow.
The 2023 Billboard Latin Music Awards will air live on Telemundo on Thursday, October 5.
You can view the original article HERE.