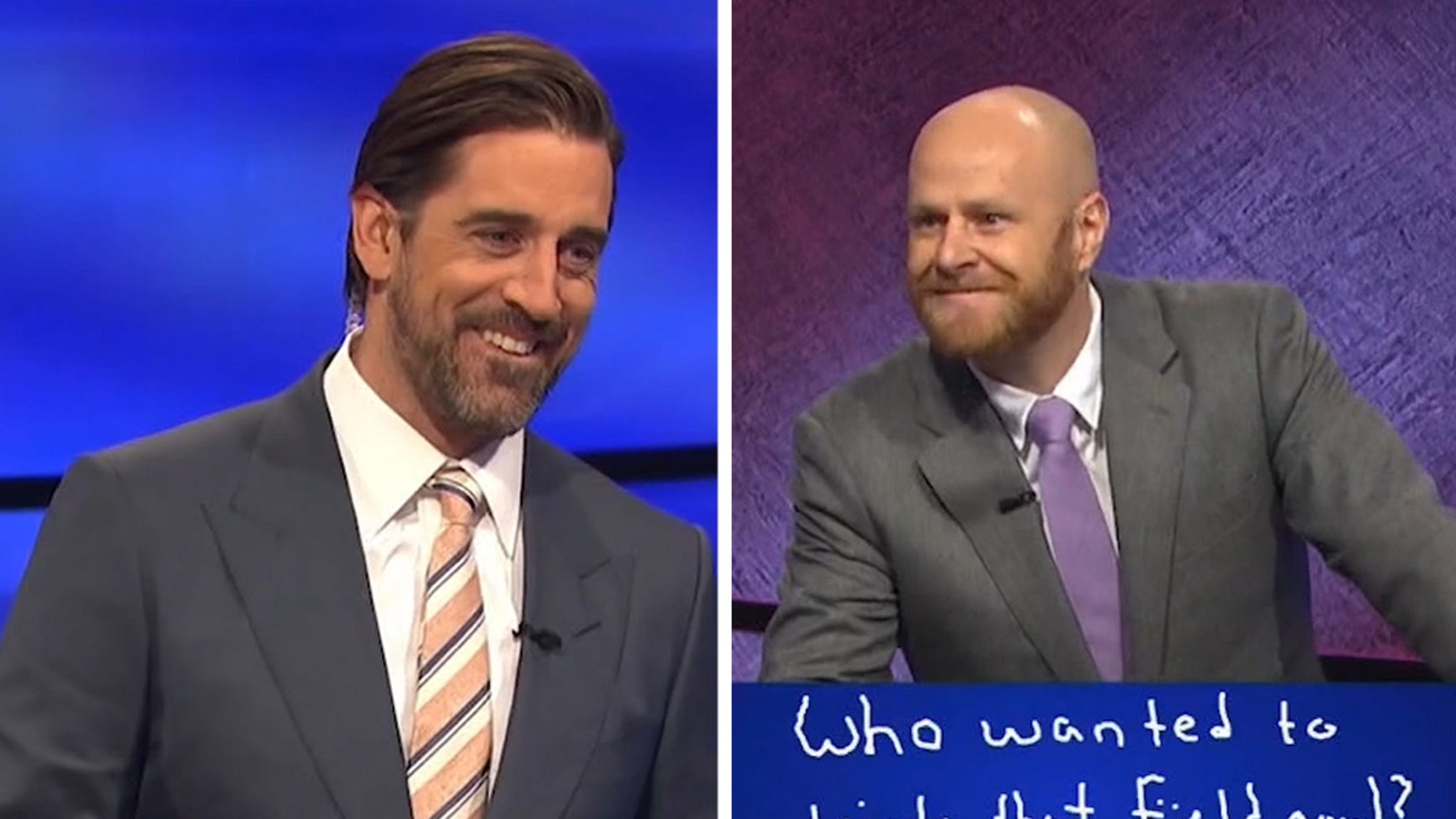 Play video content
Breaking News
Jeopardy!
Answer: THIS is what Aaron Rodgers got hit with in the final seconds of his 'Jeopardy' hosting debut …
Question: What is … A SICK BURN!?!?
Yep, the Green Bay Packers QB was heckled during Final Jeopardy over that lousy NFC Championship playoff loss to Tom Brady … and it was hilarious!!
Rodgers was a pretty solid guest host on Monday's show — keeping a solid pace and offering some fun banter along the way. He crushed it.
But, the best moment of the show took place at the end … when contestant Scott — the reigning 2-day champion — decided to have some fun at Aaron's expense during Final Jeopardy.
The category was Daytime TV Personalities — but Scott realized he didn't know the material and couldn't win the game.
So, instead of scribbling down a legitimate guess … he wrote on his monitor, "Who wanted to kick that field goal?!"
SICK BURN!!!
Aaron smiled, laughed and said, "That is a great question! It should be correct!"
Scott is referring to the bizarre call at the end of the NFC Championship game back in January … where Packers coach Matt LaFleur opted to kick a field goal on 4th and Goal, despite being down 8 points with around 2 minutes remaining.
The Packers got the 3 points — but Tom Brady and the Tampa Bay Bucs got the ball back and successfully ran out the clock, winning the game.
The Packers chose to kick a field goal down 8 with just over 2 minutes remaining, instead of going for a TD on 4th-and-Goal. pic.twitter.com/ByxDJyBATS
— The Comeback (@thecomeback) January 24, 2021
@thecomeback
Most people — including Aaron — think Rodgers should've gotten a chance to score a TD on 4th down, followed by a 2 point conversion try. But hey, hindsight is 20/20 right?
Don't worry, Rodgers has a solid support system around him — including his fiancee, Shailene Woodley, who raved about Aaron right before he made his hosting debut.
"This guy right here is super sexy, super attractive … just shaved his neck this morning! Has a little man bun growing," she joked.
Play video content
"This guy is hosting Jeopardy! tonight!"
So, why was Aaron selected to host? Rodgers actually won "Celebrity Jeopardy" back in 2015 … and explained in his opening comments that he wanted to honor the memory of the late, great Alex Trebek.
Mission accomplished.
You can view the original article HERE.