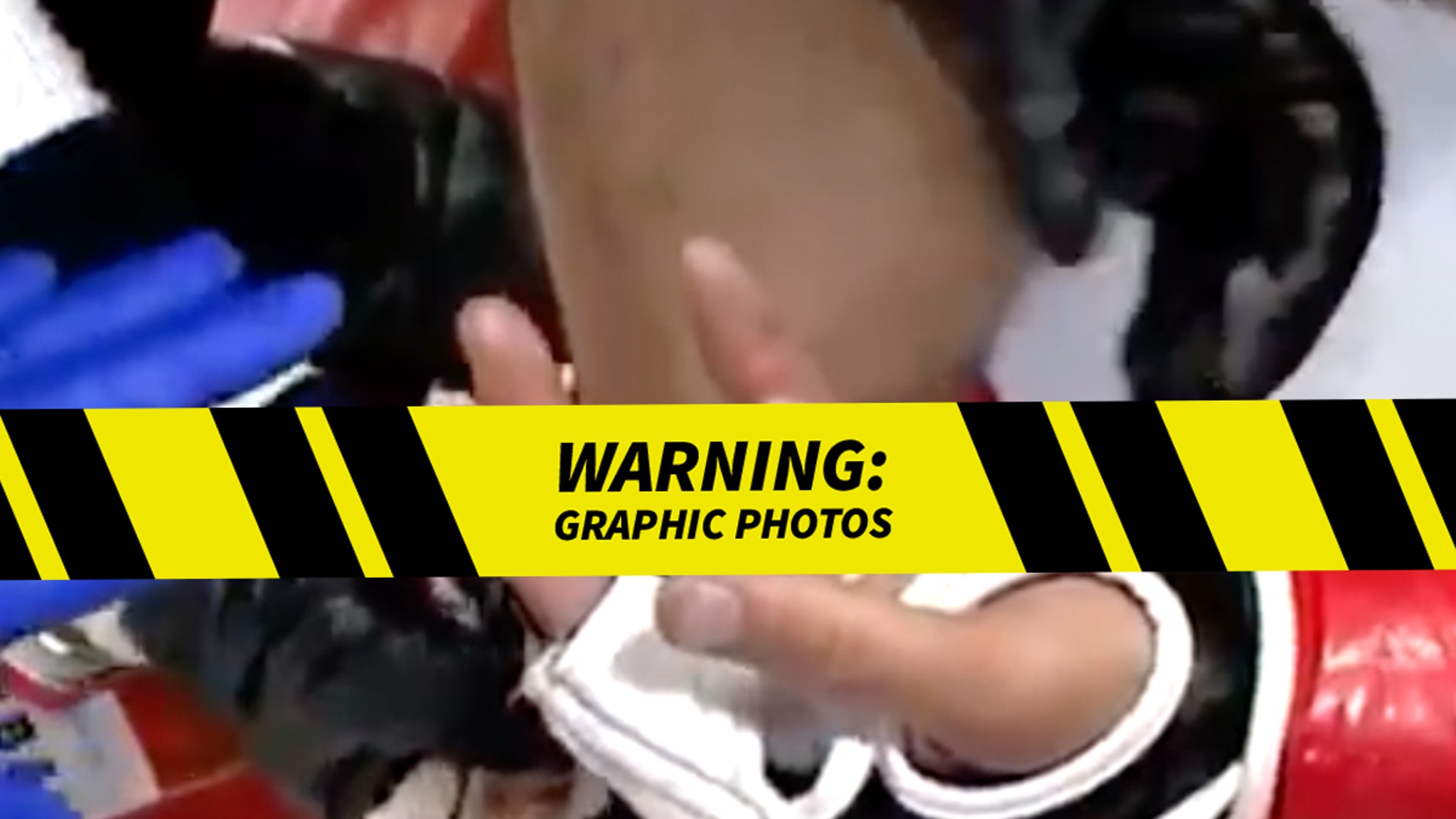 9:13 AM PT — TMZ Sports spoke with Khetag Pliev who's shockingly calm considering the seriousness of his injury!
Play video content
TMZSports.com
In fact, Pliev told us when doctors asked him to rate his pain on a scale of 1 to 10 (10 being worst) he said it was a TWO!!!
Pliev says he will meet with more doctors to figure out if he needs surgery or physical therapy — but he's laser-focused on fighting again as soon as possible.
He also told us his goal is fighting in the UFC — and had a message for Dana White … "I am willing to lose a finger for a UFC contract."
"I said, 'Wait a second, where the f*** is his finger?' They were all like, 'I don't know.'"
That's how one witness described seeing an MMA fighter LOSE A FINGER mid-match Thursday night … and, yeah, the injury was just as horrific as it sounds.
During Khetag Pliev's bout with Devin Goodale at Cage Fury Fighting Championship in Philadelphia, officials had to stop the fight when they noticed Pliev was missing a freakin' finger.
The images were INSANE … video of 37-year-old Pliev in his corner showed the ring finger on his left hand had been completely severed at some point during his match.
The problem? For several minutes, nobody could find the missing digit!
Event promoter Rob Haydak told ESPN there was a mad scramble to try to help locate it … with the PA announcer even having to ask fans in the 2300 Arena stands if they'd seen it!
"It was a surreal moment," Haydak said.
Eventually, Pliev's finger was found tucked away in his glove — where it had been the entire time — but, here's the crazy part … Pliev did NOT immediately go to the hospital to have it reattached!!!
Haydak says Pliev actually begged to continue the match … and even though officials wouldn't let him, he still stayed in the ring for the post-fight announcement, where Goodale was rewarded with a TKO decision.
"It was crazy," Haydak said. "He didn't even flinch. He was getting ready to do the [official] decision and I was like, 'Uh, guys, get him out of the cage and go put his finger back on.'"
Pliev — who did ultimately go to the emergency room to have his finger attached — says he believes he suffered the injury after Goodale had grabbed at his glove early in the fight.
"In the second round, he caught my glove with one hand and held it," Pliev said. "I felt my finger snapped. He kept pulling my glove and my finger snapped. We kept fighting."
"When the second round was finished, I see my [bone] was out in the open. I wanted to keep fighting, because I felt like I had this guy. But, the doctor saw that and stopped the fight. "
Pliev — a wrestler who competed for Canada in the 2012 Olympics — came into the fight with a 5-1 record. He said he plans on appealing Thursday night's fight result.
Originally Published — 6:26 AM PT
You can view the original article HERE.