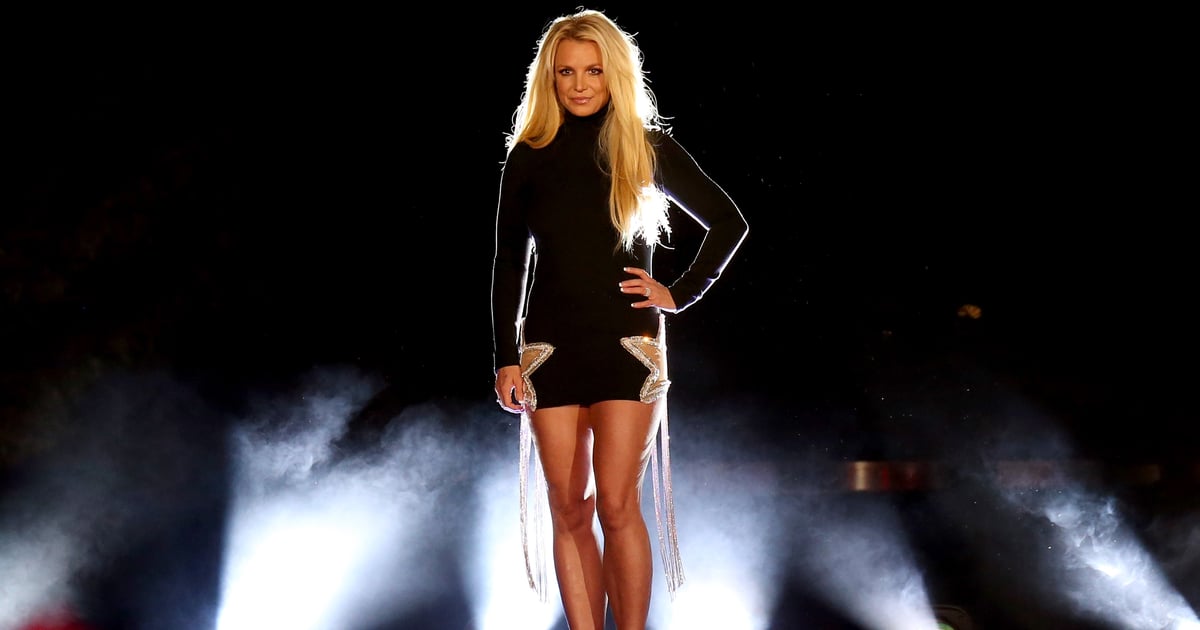 After a years-long battle, Britney Spears's conservatorship may be altered or even come to an end soon. On Sept. 29, a hearing will be held to determine whether to terminate the arrangement that has largely controlled the 39-year-old singer's life since 2008. The move comes months after renewed media attention on Britney's conservatorship, including the documentary Framing Britney Spears and coverage of her own harrowing testimony in a June hearing.
For more than a decade, Britney's father, Jamie Spears, has essentially had total legal control of her life despite the #FreeBritney movement supporting her efforts to regain control. Here's what you need to know about how the conservatorship came to be and what's been happening in recent years.
When Did the Conservatorship Over Britney Spears Begin?
Back in 2008, Britney suffered what appeared to be a very public breakdown, and, following a series of odd behaviors, she was placed on a psychiatric hold at a Los Angeles hospital for an evaluation. At that time, her father petitioned for "temporary" conservatorship, arguing that Britney was in no state to care for herself and the matters of her life. The conservatorship granted him the legal right to oversee and control most aspects of her life, from her health and business decisions to her personal life. According to a 2016 New York Times report, that control and scrutiny covers every detail, from buying a cup of coffee to testifying in court.
Why Is Britney Opposed to Jamie Spears Acting as a Conservator?
In September 2019, People reported that Jamie was temporarily stepping down from his role as conservator, but intended to return; the decision came after reports that he had allegedly had a verbal and physical altercation with Britney's teenage son, Sean, and that Sean's father, Kevin Federline, had filed a restraining order against Jamie. At the time, Jodi Montgomery, a licensed conservator, assumed the role for Jamie.
In August 2020, People reported that Britney filed a brief opposing her father's role, requesting that Montgomery continue permanently as conservator and that a "qualified corporate fiduciary" be appointed as conservator of her estate, rather than her father. "We are now at a point where the conservatorship must be changed substantially in order to reflect the major changes in her current lifestyle and her stated wishes," her lawyer stated in the filing.
In September 2020, Us Weekly reported that Britney requested the court case be open to the public, going against her father's wishes to keep it sealed. "Britney herself is vehemently opposed to this effort by her father to keep her legal struggle hidden away in the closet as a family secret," the filing said in part. It also acknowledged the #FreeBritney movement and suggested that Britney, at least in part, agrees. "Far from being a conspiracy theory or a 'joke' as James reportedly told the media, in large part this scrutiny [on social media] is a reasonable and even predictable result of James' aggressive use of the sealing procedure over the years to minimize the amount of meaningful information made available to the public. Whatever merits his strategy might have had years ago when Britney was trying to restart her career, at this point in her life when she is trying to regain some measure of personal autonomy, Britney welcomes and appreciates the informed support of her many fans."
The most devastating testimony came from Britney herself in June 2021. In a virtual court hearing, Britney detailed a litany of indignities, manipulations, and abuses she reportedly endured under the conservatorship. According to The Hollywood Reporter, Britney testified that she was forced to go on tour in 2018, change her medication against her wishes, give up autonomy over her personal life, and more. "Not only did my family not do a godd*mn thing, my dad was all for it," she said.
What's Going on With the Conservatorship Now?
In November 2020, Britney formally moved to permanently remove her father as co-conservator of her estate. Los Angeles Superior Court Judge Brenda Penny denied the request, despite Britney's insistence, through her lawyer, that she feared her father and did not wish to perform while he was in charge of her affairs. In February 2021, the judge ruled that Jamie should have a joint conservatorship with financial services company Bessemer Trust. Following Britney's testimony in June, however, the trust stepped down.
In early September, following a series of revelations in the case — including Judge Penny granting Britney permission to hire her own lawyer — Jamie filed a petition to end Britney's conservatorship. Weeks later, she filed her own petition agreeing with the move; a hearing later in the month will decide whether the termination will be granted. Britney also recently got engaged to Sam Asghari, which she has said she wanted to do for some time now.
The media has continued to follow the developments in the conservatorship. FX and Hulu have released a new follow-up documentary, Controlling Britney Spears, with investigations by The New York Times into the intense, constant monitoring that Britney has been subjected to during her conservatorship. Netflix also has a documentary, Britney vs. Spears, set to debut on Sept. 28 (the day before the hearing).
How Likely Is It Britney Spears's Conservatorship Will End?
At this point, that's for the court to decide. For the first time, both Britney and her father have requested that the conservatorship come to end, which removes what was previously the biggest obstacle: Jamie's opposition. However, there could still be barriers ahead. According to Variety, the court might not end the conservatorship completely without a mental health evaluation. And, in court filings, Britney has made clear that her highest priority is having her father removed from the conservatorship, even if that means it remains in place. Either way, both Britney and her supporters will have answers soon.
You can view the original article HERE.