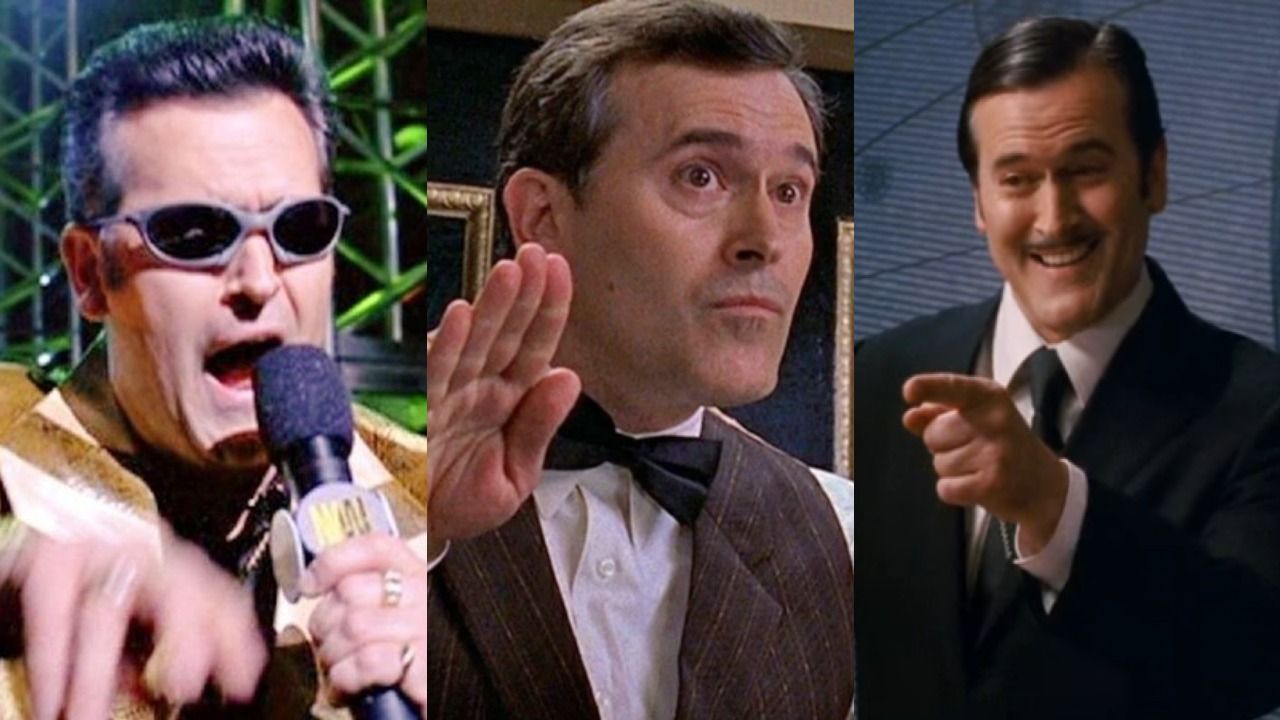 While Sam Raimi's Spider-Man Trilogy was studded with stars like Willem Dafoe, Alfred Molina, and of course, then fresh face Tobey Maguire; there was one actor who subtly hid right in front of the camera throughout the three films. Bruce Campbell, who played the lead in Sam Raimi's The Evil Dead, cameo as a ring announcer, an usher, and funnily enough, a maître d', in three respective films. While he wasn't a supervillain, he caused enough trouble for Peter in each of his appearances. Now, years later, when people talk about the original films, especially after Maguire's return in No Way Home, Campbell also joins the league.
MOVIEWEB VIDEO OF THE DAY
In a similar incident, Campbell was asked by a fan about his opinion on the new Spider-Man movie, during the Q&A Session at Fandemic Dead 2022. And Bruce, owing to his style, had a really nice and nasty response. He said:
The recent Spider-Man, was there a recent Spider-Man movie? I didn't know, I was in the good ones. I wouldn't know.
While Campbell's tease was harmless, he is not wrong about the part where he says "good ones". The MCU's Spider-Man Trilogy is undoubtedly a spectacular experience and a great depiction of the hero's journey originating in a third film; Sam Raimi's films have a far greater impact and have a unique aura about them. The original Spider-Man Trilogy didn't just turn out to be a good superhero film, but it paved a way for studios to adapt comics into live-action, playing an essential role in establishing grounds for the future of the MCU. Those are important films in cinema history and are regarded as some of the greatest comic book adaptations of all time.
And Campbell made sure that he proves how his cameos were "pivotal" in making those films a success.
In the first Spider-Man, I have what they call a cameo role. A small little role. But sir, that's a pivotal role. If my character wasn't in that movie, this billion-dollar franchise would be called 'The Human Spider.' Yeah, oh yeah, I don't like to toot my own horn, but toot toot. Enormously successful…
…said Campbell in reference to the sequence where it's his character of the ring announcer who coins the name – Spider-Man.
Campbell further bragged about how he's the only one to defeat Spider-Man at something, which is not letting him into the theater in Spider-Man 2:
Spider-Man tries to get into a theater to see Mary Jane [Kirsten Dunst], his girlfriend, in a play, her first Broadway play. Seemingly another cameo, another throwaway role. No, pivotal! I won't let him into the theater because it spoils the illusion. I'm the only character who ever defeated Spider-Man, no lie. Enormously successful.
And then, even though Spider-Man 3 wasn't a success the studio wanted, Campbell made sure that he signify the importance of his mortal character in a superhero film, saying,
I'm the French maître d'. Sure, just another cameo. 'Just another cameo, bologna! Spider-Man comes to me, the maître d', for help proposing to Mary Jane. How many superheroes do you know who come to mortals for help? Did I help Spider-Man? No, he was kind of a dick to me in the first two movies, so no.
Bruce Campbell Wasn't Supposed to be a Cameo in Spider-Man Films
While Campbell is funny enough to brag about his cameo appearances in the films, his eventual role in the series would actually have been largely pivotal if Spider-Man 4 had not been sacked. While working on the script, Sam Raimi has made Campbell's character none other than Quentin Beck, aka Mysterio, in retrospect. The three cameos of the actor would have been fitted in the character's background in the fourth film, where he would have taken on Tobey Maguire's Peter Parker. However, the film got sacked, and the story never came true.
It would have been iconic for Tobey and Campbell to share the screen as adversaries. In the panel, Campbell remembered his interaction with Tobey on the sets of the three films.
I love Tobey Maguire. I showed up in the first one, he goes, 'Oh, you're a friend of Sam's? Hi! How are you?' The second one, he goes, 'Are you back?!' The third one, he walks on set, 'I guess we can't make a Spider-Man without Bruce Campbell!' I'm like, 'You're starting to get the idea, punk!'
Bruce Campbell in Doctor Strange 2?
Marvel Studios
Bruce Campbell has reunited with Sam Raimi for Doctor Strange in the Multiverse of Madness, once again, in a cameo role. The actor has said that his role might get cut in the editing room, but several fans are wondering if Campbell actually shows up as Mysterio from Raimi-Verse, bringing the director's early plans for his character full circle. And since the film is literally dealing with multiple universes intersection and crossing over, the idea doesn't seem far-fetched. If Benedict Cumberbatch can have like five variants in the film, then we can surely have room for a little glimpse of Campbell's Mysterio.
Would you like to see Bruce Campbell as Mysterio?
Black Friday First Look Photos Reveal Bruce Campbell's Next Horror Role
Read Next
About The Author
Abhishek Sharma
(181 Articles Published)

He's a cinephile, a self-proclaimed movie geek, and an avid binge-watcher; always ready to sit through a film or a television series, regardless of the genre. His love for cinema always puts him in an analysis mode, studying plot points and cinematic images. Writing for MovieWeb since February 2021, he is always looking for people and groups to discuss and drink on films.
You can view the original article HERE.