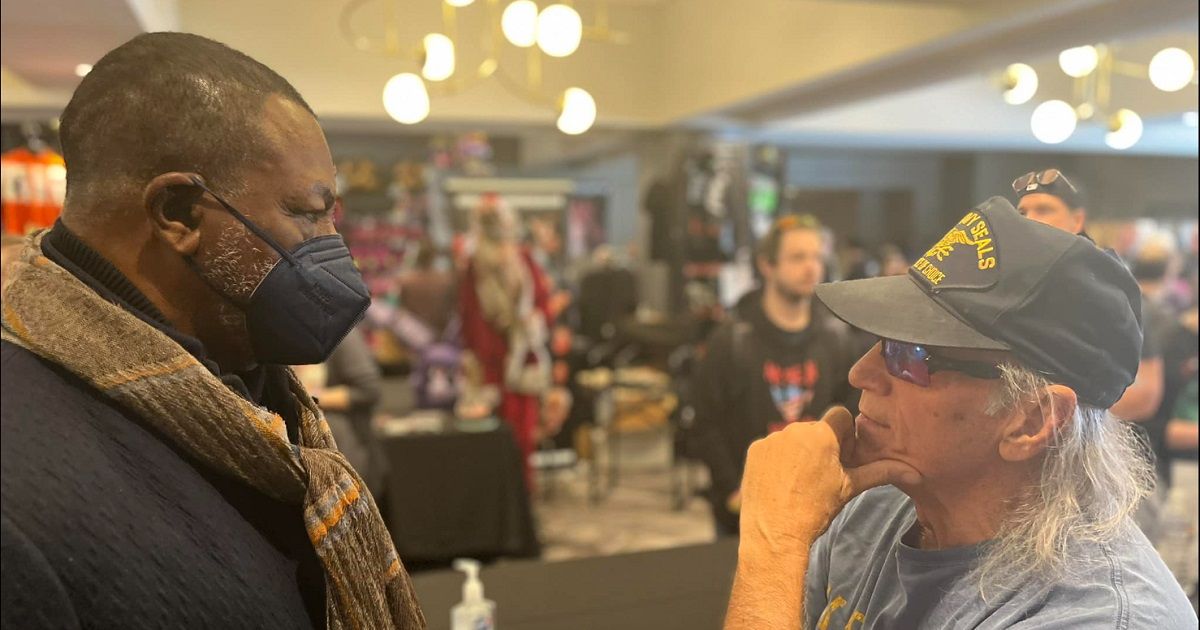 Summary
Predator stars Jesse Ventura and Carl Weathers had a mini-reunion 36 years after the iconic film's release, delighting fans at a fan convention in Atlanta.
Ventura and Weathers appeared alongside Arnold Schwarzenegger in the 1987 film, which became a huge success and spawned a franchise.
Ventura praised the recent prequel movie, Prey, and commended the performances of the cast, including Dane DiLiegro as the Predator.
Two stars of Predator had a mini-reunion 36 years after the iconic film was first released in theaters. Jesse Ventura and Carl Weathers recently reunited for a photo when appearing at the Mad Monster Party fan convention in Atlanta, Georgia. The image shared online by Ventura was a nostalgic throwback that would make any Predator fan happy.
Released in 1987, Predator became one of the biggest sci-fi action movies of the decade, and spawned a franchise that has recently expanded further with the prequel movie, Prey. In the first movie, Ventura and Weathers appeared alongside Arnold Schwarzenegger, who plays Dutch, the leader of an elite paramilitary rescue team tasked with a mission in a Central American rainforest, but end up coming up against the formidable hunting abilities of an alien creature that the world would come to know as the Predator.
Predator saw Ventura playing Blain Cooper, a tobacco-chewing, gun-toting mercenary known for carrying a Minigun weapon named 'Old Painless'. Coming with his own catchphrase of, "ain't got time to bleed," Blain's tough exterior made him a perfect part of Dutch's macho team. Weathers played the role of Al Dillon, a CIA agent who was previously a buddy of Dutch's during their time in Vietnam.
In his Facebook post, Ventura, who, like Schwarzenegger, has made a notable move to politics, having served as the governor of Minnesota, invited fans to head down to the Mad Monster Party convention to grab an autograph. In his post, he added that he had been able to catch up with his old buddy, Weathers, who has himself recently returned to screens as part of The Mandalorian, in the role of Greef Karga. You can check out the post below.
Related: Predator Experiment Proves Arnold Schwarzenegger's Survival Tactics Would Actually Work
Predator's Jesse Ventura Heaped Praise on Prey.
20th Century Studios
While there were many fans of the Predator franchise worried about how Disney would handle the franchise after their acquisition of Fox, the arrival of Prey on Disney+ not only alleviated those concerns but also delivered one of the highest rated Predator movies of the entire franchise.
Someone who was massively impressed by the Dan Trachtenberg-directed movie, was Ventura, who heaped praise on the film on social media when it was released. He wrote at the time:
"Great, great, film. Amber Midthunder you definitely ain't got time to bleed. Welcome to the Predator family. [Director Dan Trachtenberg] Thank you for making such a thoughtful, creative, and wonderful film."
Ventura went on to also praise the man in the Predator suit, Dane DiLiegro, noting how he had done a great job in tackling the role.
"It is not an easy task following the late great Kevin Peter Hall's performance as the Predator. My hat off to you. Fantastic job."
The original Predator remains a fan favorite and is available for streaming on Max, while Prey is available on Hulu. A continuation of the franchise is already in the works.
You can view the original article HERE.