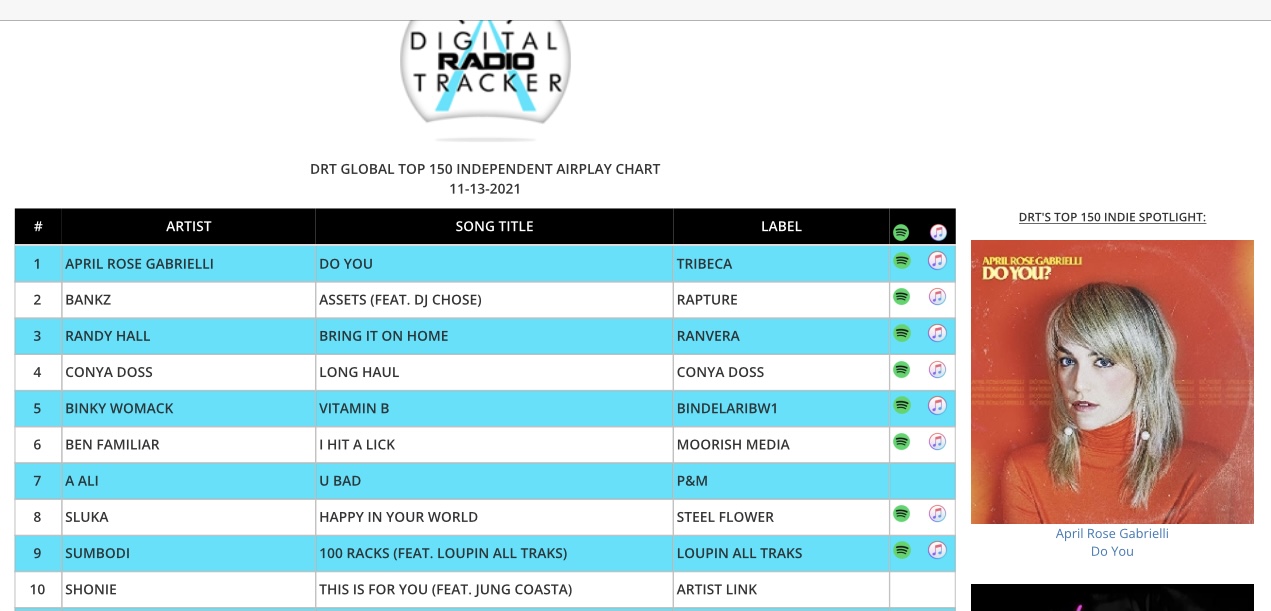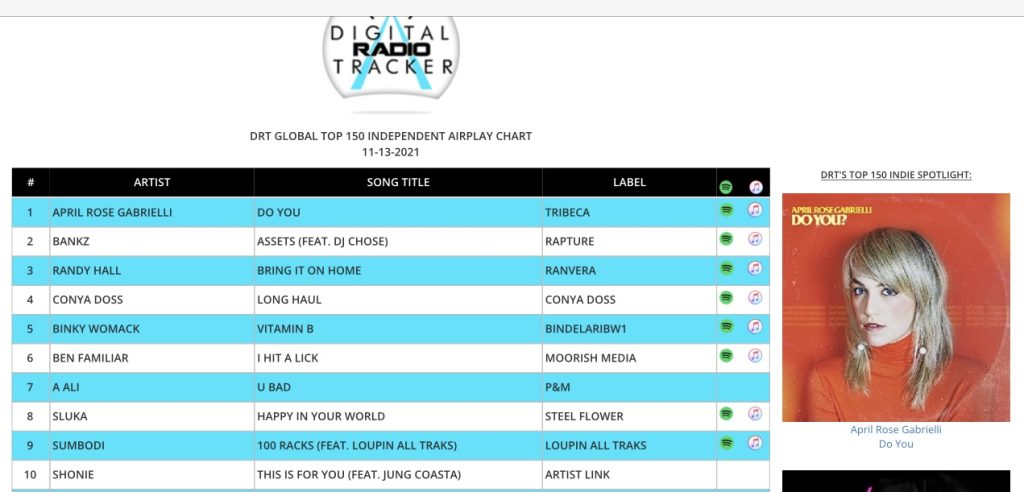 April Rose Gabrielli's new single "Do You?" has just taken the #1 spot on the DRT Global Top 150 Independent Airplay Chart, and hit #69 on the DRT Global Top 200 Airplay Chart right behind The Kid Laroi.
"Do You?" is quickly rising and is charting higher than industry icons Ariana Grande, Harry Styles, One Republic, Billie Eilish, Pink, Ed Sheeran and more.
In addition to hitting #1 on the DRT Global Top 150 Independent Airplay Chart, "Do You" has also recently won an Akademia Music Award, is currently nominated for an HMMA Award and was chosen as the Official Selection of the "Female Voices Rock" Film Festival.
"Do You?" is released through SohoJohnny's Soho Records and Sony AWAL.
"Do You?" is the debut single from alternative-rock singer, songwriter, pianist, producer and poet: April Rose Gabrielli. "Do You?" is the perfect musical introduction to April as it represents the way she often weaves poetic lyrics, powerhouse vocals and stacked harmonies into a rock track centered around catchy pop melodies. Thematically, using the words "Do You?" in a few different contexts, the lyrics touch upon the ways in which she has mastered the art of emotional deflection and indecision to "keep the peace" with those around her. The track was written and produced by April Rose Gabrielli, with production, songwriting and engineering help from Kulick (Enci Records) & lifelong friend, Kevin Eiserman.
Follow April Rose Gabrielli on the web:
website – https://www.aprilrosegabrielli.com
facebook – https://www.facebook.com/aprilrosegabrielli
instagram – https://www.instagram.com/aprilrosegabrielli
twitter – https://www.twitter.com/aprilrosegabrie