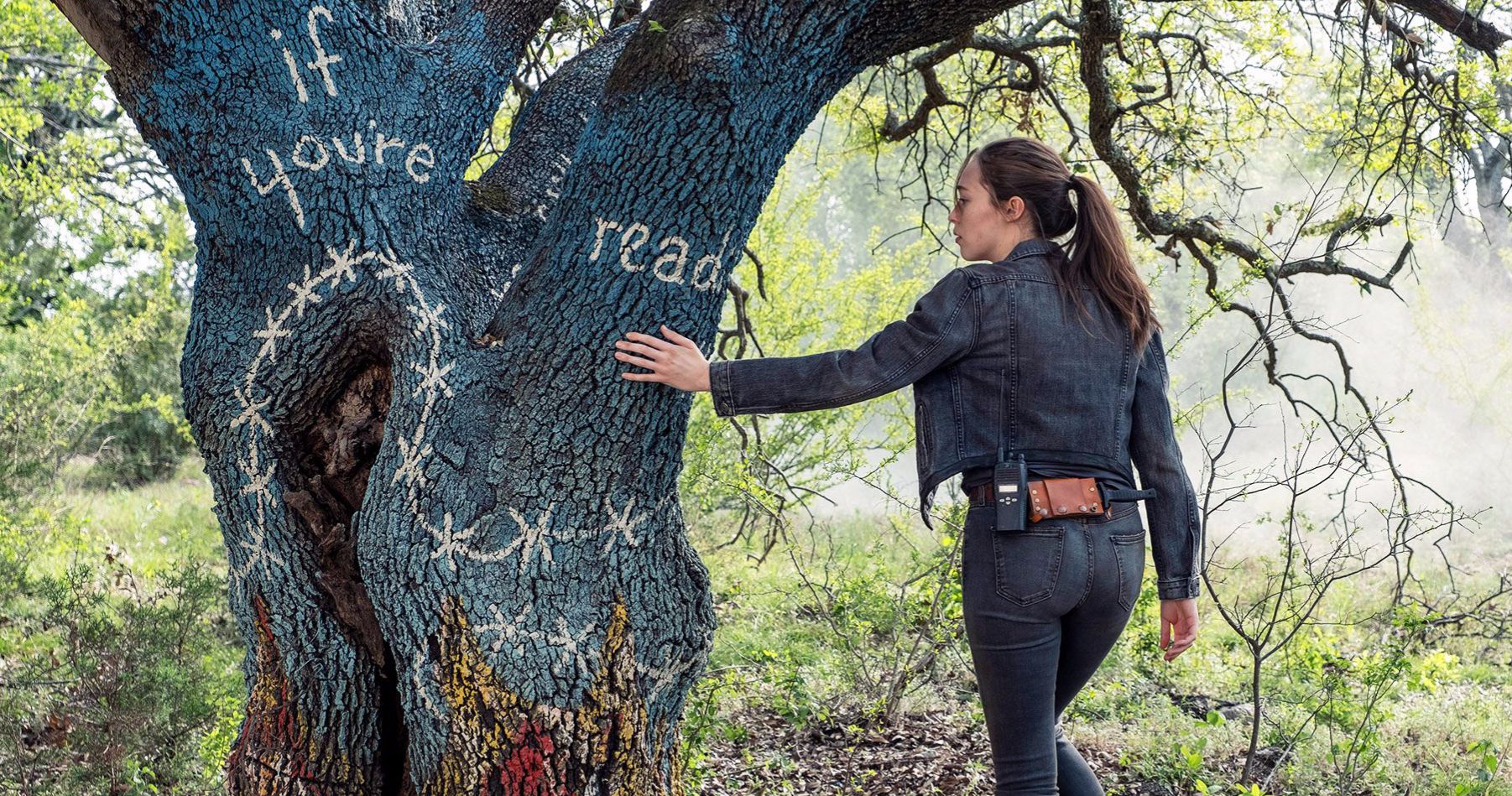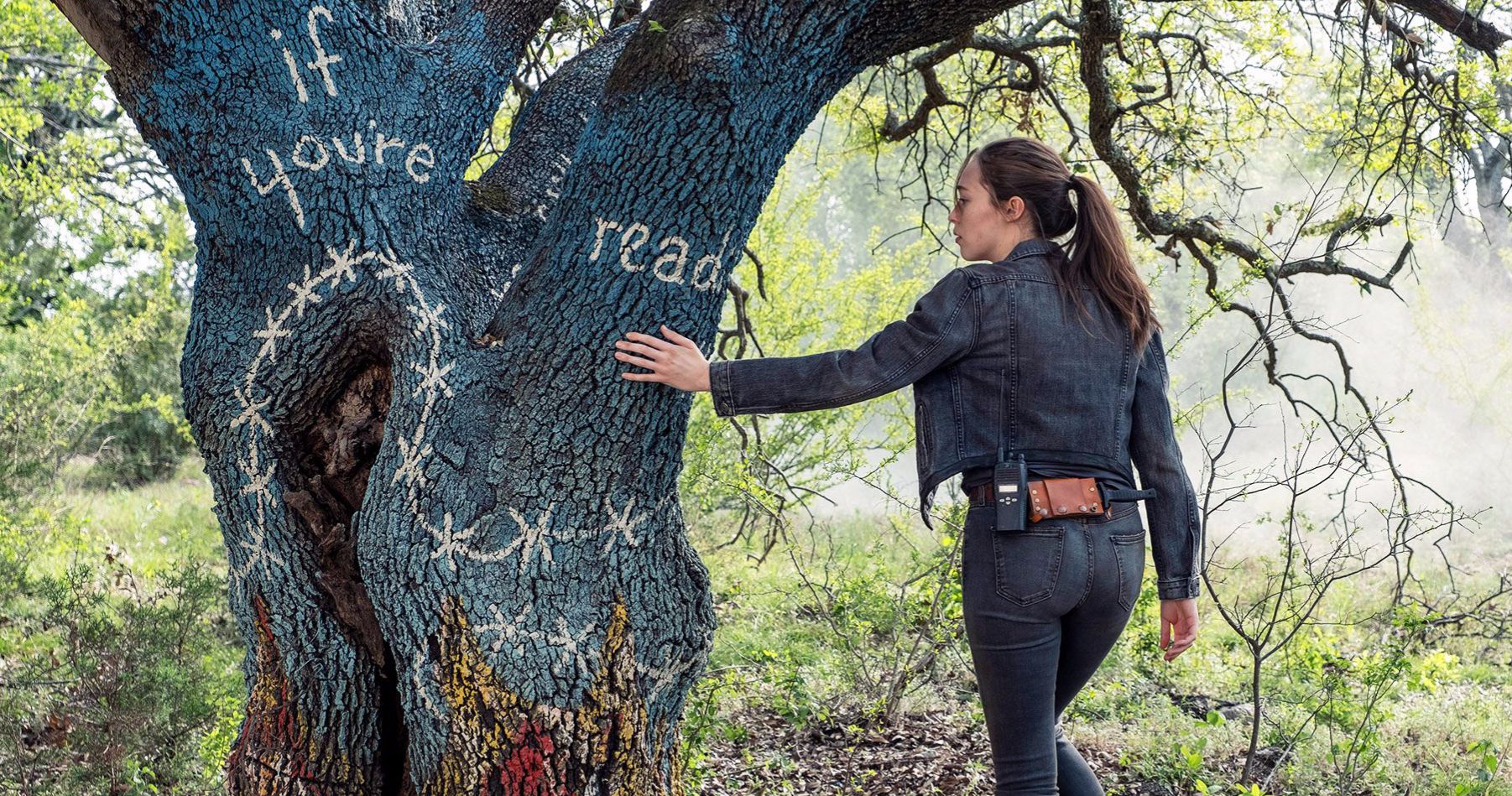 Fear the Walking Dead returns with an explosive midseason five premiere. "Channel 4" has the cast telling their story, documentary style for survivors, while negotiating a tricky minefield. They've already secured a gasoline supply and dumped Logan (Matt Frewer) in the opening montage. They've also abandoned the river mill. Rolling out in an armed convoy to help people. It's a surprising turn of events after escaping the nuclear meltdown.
"Channel 4" begins with Morgan (Lennie James) being interviewed by Al (Maggie Grace). He explains how somebody helped him. We see a shot of a supply box left on the roadside. "This is what it's all about," Morgan says. Next up is Alicia (Alycia Debnam Carey), explaining she's "taken a step back." The rest of the cast follows with their story and why they're trying to help. John Dorie (Garret Dillahunt) says, "They're lousy with skills. That's what being rich today is."
MOVIEWEB VIDEO OF THE DAY
A montage follows of survivors calling them on the radio for help. They saw their plane, or found a supply box. Morgan admits they're still learning how to live. Al explains that they raided a store and took camera equipment. They added more trucks, then started recording how they help others. Sarah (Mo Collins) fills up containers with gasoline. They found Polar Bear's oil fields. She gives the other trucks the containers. Salazar (Ruben Blades) and Dwight (Austin Amelio) follow the fuel truck in the MRAV to protect it. He still has Skidmark the cat. Sarah revels in how they betrayed Logan and left him in the middle of nowhere. They weren't going to be fooled twice, "Karma's a bitch Logie."
Dwight and Salazar play chess in the MRAV. Dwight refuses to get a haircut. Alicia, Strand (Domingo Colman), and Luciana (Danay Garcia) drive the lead vehicle, "Sprinter." Alicia is seen training on the staff with Morgan. She has a lot to learn and gets frustrated. Strand wipes out a bunch of walkers with her signature weapon.
June (Jenna Elfman) and Grace (Karen David) are in charge of the caravan. The trucks form a circle with a makeshift barrier on the outside. They're seen washing clothes, tending to the injured, and counting food supplies. June explains why they left the river mill. It didn't make sense to operate out of just one place. They've also "set up outposts along the road." June shuttles people to safety as she dispatches a few walkers. She and John haven't settled on a wedding date. She considers them already married. Grace is seen checking her lymph nodes.
Morgan "feels good" about the work they're doing. He brings up "Tess". Morgan drives to a house surrounded by a decrepit fence. Luciana and John are already there. Al films the encounter. Tess calls them on the radio. Tess and her son haven't left the house in years. Her husband Ben has gone missing. He rigged the area around the house with landmines. A walker gets through the fence and is blown to bits.
The fuel convoy barrels down the highway with Sarah blasting her trucker music. Charlie (Alexa Nisenson), Dwight, and Salazar aren't fans. Sarah updates that the children and Wendell stay in "Tank Town". It's a "need to know kind of spot." Sarah orders the camera cut off to keep the location of the oil field secret. Salazar wanted to "shut Logan's mouth" permanently.
Back at the house, Tess radios Morgan that her husband left to find an inhaler for their son. Tess sees the cameras. She refuses to come out. Al is seen explaining that they have to film their encounters. People need to know that "they're not full of crap." Tess continues that they never had to leave. The house had a garden, septic system, all the supplies needed. She's sure her husband will come back.
John picks off walkers approaching the fence. June is searching the pharmacy. She radios Morgan that there's no inhaler. Strand assumes Ben took it and left. June is seen again in an interview. She talks about why Tess couldn't leave her house. Alicia searches the woods for Ben. She finds another tree with floral writing that says, "If you're reading this, you're still here." A walkers approaches her and is dispatched by Strand. Cut back to Alicia's interview. She admits that she hasn't killed since they landed the plane.
At the house, the explosions and gunfire has attracted more walkers. Cut to John's interview. He talks about how Tess and her son was an emotional event for Morgan, who never speaks about losing his family. There's no better man to have your back than Morgan, but he says very little.
Walkers crash through a side of the fence and set off a huge explosion. The scene cuts back to John's interview, who calls the minefield "the ugliest mustard he's ever seen." We then see various shots of Al, Luciana, and Morgan talking about the intensity of the situation. The walkers continue through the yard, setting off mine after mine. Luciana gives John a rifle. He picks off a few, but the explosions continue.
Back at the tree, Strand and Alicia discover that the walker that attacked her was Ben. It had a backpack with the inhaler for their son. At the house, John runs out of bullets. They hear a boy cry for his mother as the explosions get closer. Morgan rushes into the yard. Cut to Morgan's interview. The situation was "loaded for him" because of what happened to his wife and son.
Morgan runs through the yard. He jumps from crater to crater, killing the remaining walkers. His left foot steps on a mine. The others follow the craters to get to him. Strand, Alicia, and June drive up to the house. They have the inhaler. Tess radios Morgan. He breaks the news that Ben isn't coming back. They have the medicine for her son. Tess weeps. She refuses to believe her husband is gone. Morgan cries during his interview.
At the house, Al talks Morgan through disarming the mine. John tosses him a pocket knife to dig around it. Al is 50/50 on how to remove the firing pin. Morgan tells the group he had something special planned for that night. No matter what happens, they're still doing it. Just as he's about to unscrew it and access the fuse, Tess comes out of the house. She knows Ben is not coming back. She gives Morgan a pin to deactivate the mine. He inserts the pin and steps off. He orders everyone to back up. He walks away safely, then the mine explodes. Tess and her son come out together. Morgan gives them the inhaler.
That night at the convoy camp. The group has a big Pad Thai cookout. Tess and her son are with them. In her interview, she thanks them for helping. She knew help would come someday. Everyone gets a big bowl of noodles. Morgan asks Alicia is she wants to continue practice. She says no, she wants to find who's painting the trees. Sarah, Charlie, Dwight, and Salazar drive up. In their last interviews, Morgan tearfully admits he needs to say goodbye to his family. Alicia still "needs help". John wants to continue their good work. June needs to find a permanent place for them. They all eat and laugh by the campfire. The group takes turns explaining to the camera why they need "your" help to better the world.
The tape ends with Morgan. A man with dreads, Wes, has been watching it at a gas station. A TV with a VCR and radio sits on a table. Wes takes the radio, marked "channel 4", and a few supplies from the box. He breaks open a locked door and finds a container of fuel. He's at one of the outposts. As Wes refuels his motorcycle, Logan and his mercenaries arrive. Logan throws his worn boots at the him. He walked two hundred miles. They took his gas. He wants to know where the oil fields are. Wes swears he doesn't know the people on the tape. Logan's group rob Wes and shoots up the motorcycle. A herd of walkers approaches. As Logan leaves, he tosses Wes the radio, "When they pick you up. Tell them they're making more enemies than friends out here…and we got more bullets than we know what to do with."
The battle for fuel looms. It struck me as odd the show starts off with the gas already found. I guess the showrunners wanted to lay the groundwork for the conflict ahead. Logan's ominous last line predicts a shootout for road supremacy. Fear the Walking Dead continues to change storylines. The show is certainly dynamic. There hasn't been any cast fatalities and a slew of new characters introduced. Grace is still sick, but who will survive the upcoming war with Logan? Tune in next week to AMC as season five rolls onward.
Pitch Perfect TV Series: Cast, Plot, Release Date, and Everything Else We Know
Read Next
About The Author
Julian Roman
(1481 Articles Published)

Julian Roman has been with Movieweb for nearly twenty years. An avid film buff, he feels lucky to have interviewed and written extensively about Hollywood's greatest talents. In his spare time he plays guitar, treasures good company, and always seeks new adventures.
You can view the original article HERE.