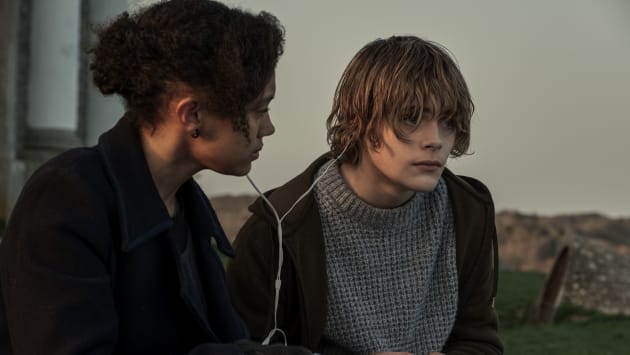 The resistance is coming together, if ever so slowly.

The question that never honestly got answered in Invasion Season 2 Episode 7 is: who is the enemy, the military or the aliens?

The smart money would still have to go on the transformed aliens, now flat-out killing machines.

But, after an initial round of unity after the aliens invaded, humanity has splintered again. But instead of having hundreds of nation-states, it's broken down into the military and civilians.

Unfortunately, while the civilians are developing good ideas about conquering the aliens, the military has the guns and a rigid mindset regarding civilians.

You would think that Trevante Cole, of all people, would understand that, being former military and all.

But Trevante is a civilian on a mission now. Fate has thrown him together with Rose, who may be even more obsessed with the aliens than him, if that's possible.

Rose had taken up Trevante's habit of attempting to make sense of Casper's alien-inspired drawings to the point that Trevante was concerned about her "intensity."

But Rose was onto something when she created that map of essentially abduction points. She just needed Trevante to give her the necessary perspective.

The clues they found in Casper's drawings, a license plate number and a spiral, pointed to Ben Shelton's farm as necessary. How exactly was yet to be determined, so they were off to the farm.

You would have to wonder how impenetrable this base was since they could sneak in with little trouble.

Of course, they got discovered before they learned much of anything. But Trevante used his solid military training to make his escape.

We finally learn who the Billy Rose has been searching for is in a tender moment between her and Trevante.

It only makes sense that Trevante and Rose would become attracted to each other. They're both coming out of broken relationships, so that a rebound romance would be likely, even amid an alien invasion. You could see it coming.

You can also see Aneesha and Clark becoming an item. But children are involved, so that isn't simple or neat.

Complicating things further is that their kids are friendly with each other. Scratch that. Luke is infatuated with Ryder, although that doesn't appear reciprocated.

Clark has been in Aneesha's corner since they met, even though any of his Movement allies would like to send her and her family packing.

Things have only gotten worse as aliens killed off two-thirds of their number en route to the rescue mission for Sarah. Then there's the whole Luke-connected-with-the-aliens thing.

Somehow, Aneesha won over the doubters with her "Here's what I learned when I was a doctor" speech. 

That was a clever plan to suck in the few soldiers left on Camp Pierce around crazy driver Aneesha. There is no way a dozen civilians should have been able to take over even though that base is about to be shut down.

That should have been a clue that nothing of value remained there, even before Tiger Mother Aneesha came out to threaten that overly dedicated corporal.

So now Trevante and Sarah are both at Project Idabel, with the rest of the Movement troops (such as they are) on the way there. Yay! A teamup among characters is finally on the horizon. It's about time!

Since the English classmates are still on the continent, they won't join the fun anytime soon. Frankly, they aren't ready to take on the military anyway.

All that work to locate Casper Morrow only to find out he's not his usual nerdy self. His not being able to access all his short-term memories is to be expected after all time being comatose.

Monty did bring up some salient, disturbing points. Why were Casper and all these exceptional children locked up in that special ward? Were they dangerous, and if so, to whom?

Casper was correct that they needed to hook up with those children since they were likely being developed as weapons to fight the aliens.

But it was disheartening that Casper had lost his connection with the aliens. As the encounter on the roof proved, they need all the warnings they can get while working through the alien-infested territory.

There's a tricky romance triangle forming around Jamila. 

No matter how she tries to couch it, part of her search for Casper centers around her feelings for him. It isn't just to save the world.

For an intelligent girl, Jamila was slow to pick up on Monty's feelings for her. She finally realized what happened during his impassioned speech about trusting her dreams.

It was sweet how she attempted to nudge Casper's memories, using his drawing of her and playing their song on the ancient Walkman.

Of course, the long-anticipated kiss between Casper and Jamila happened after he recalled their time together on that school bus ride.

However, that kiss was witnessed by Monty. He's been reformed on this mission. But what happens when he becomes the third wheel? And how will that impact Penny, who needs her supportive big brother?

What did Trevante and Rose stumble onto?

Is this Project Idabel headquarters for the military's counterattack against the aliens?

Will Casper be back to his old self after regaining his memories?

Comment below.
Edit Delete
Dale McGarrigle is a staff writer for TV Fanatic. Follow him on X.
You can view the original article HERE.