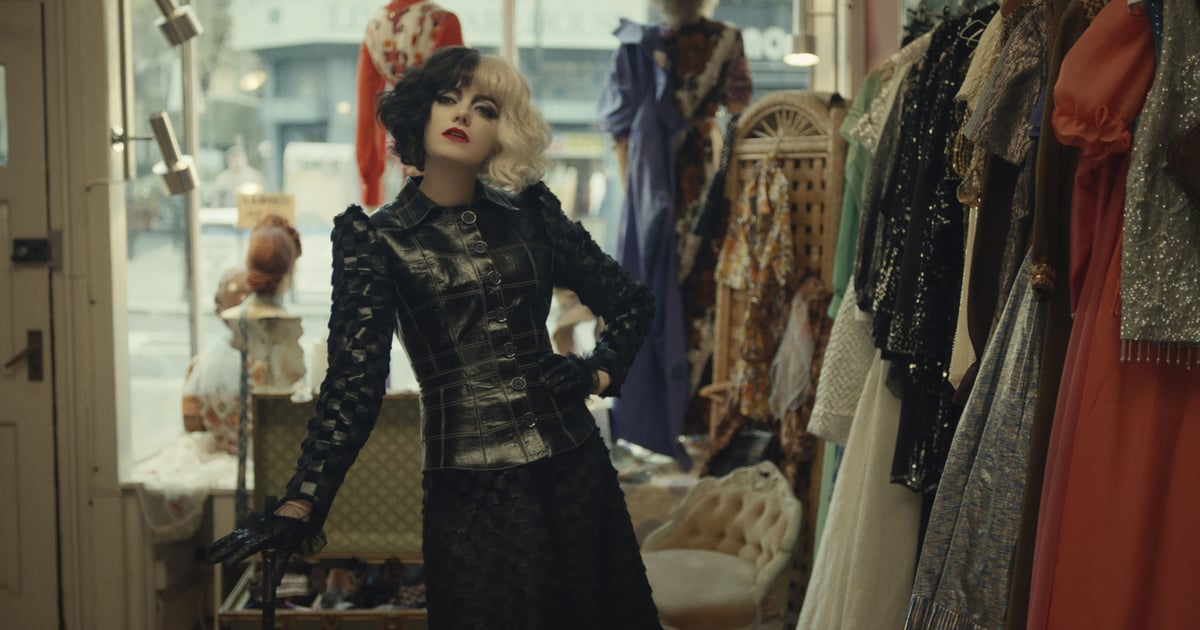 There are many reasons to watch Cruella, the live-action film starring Emma Stone as the titular character and adapted from Dodie Smith's novel The Hundred and One Dalmatians and Disney's 101 Dalmatians franchise. Mainly the glitzy and fabulous costumes.
Set in 1970s London during the punk rock era, the story centers on the backstory of Estella, an orphan and aspiring fashion designer who, with the help of her grifter buddies, Jasper (Joel Fry) and Horace (Paul Walter Hauser), lands a job at the posh department store Liberty London and eventually gets hired by Baroness von Hellman (Emma Thompson). Sartorial hijinks ensue, including a guerrilla fashion show and a haute couture dress made entirely of moths, in her journey to becoming the full-fledged, dalmatian-wielding villain Cruella de Vil.
POPSUGAR spoke to Cruella costume designer Jenny Beavan, an Oscar and Tony Award winner whose previous credits include A Room With A View and Mad Max: Fury Road, about what it was like outfitting the cast of the colossal fashion film.
POPSUGAR: Cruella is such a fashion-centric movie. Where did you even begin?
Jenny Beavan: The way I start everything — with complete terror, obviously, because it was so enormous. [laughs] I had real doubts about whether I should take [the movie] on, but I decided to just go for it. In any form of costume design, you start from the script and the director's vision, then you make very boring lists of each character and what they need. At the same time, I did research and used my own memory, because I was very much around in the '70s. I was starting my career as a theater designer doing sets rather than costumes. Then I put together mood boards.
PS: What did the mood boards look like? Where did you draw inspiration from?
JB: They had a lot to do with the characters. I do the crowds as well, because that gives me the background of where the character is going to come from. I'll do a board of dogs that look like their owners, 18th-century bulls, black-and-white bulls, street people in London, fashion houses. Then I'd go into the actual characters and start to think about [Cruella's] mother, the Baroness . . . it's a whole world that I inhabit.
PS: Any fashion houses in specific?
JB: BodyMap, Vivienne Westwood — that whole Sex Pistols and King's Road sort of vibe. I was always a bit of an outsider — I wasn't interested in all that funky fashion, but I remember the whole feeling of that time. Dior was a big influence for the Baroness, too. I looked through a lot of old issues of Vogue from the '60s and '70s.
PS: Where did you shop for the costumes?
JB: We basically collected anything we could find from the period. There are a lot of vintage stores and markets and costume houses in England and Los Angeles, and I'd basically go and raid them. A lot of the ideas came from Portobello; there's also an amazing vintage market in New York called A Current Affair. With this whole collection of stuff, we then went to meet Emma. By that time I'd also thought about how I was going to use some of it, but some of it was purely speculative. It was more about getting a sense of her and what would look good on her — what might be the very early bits, what might look more sophisticated, what might work for the bigger moments.
You can view the original article HERE.