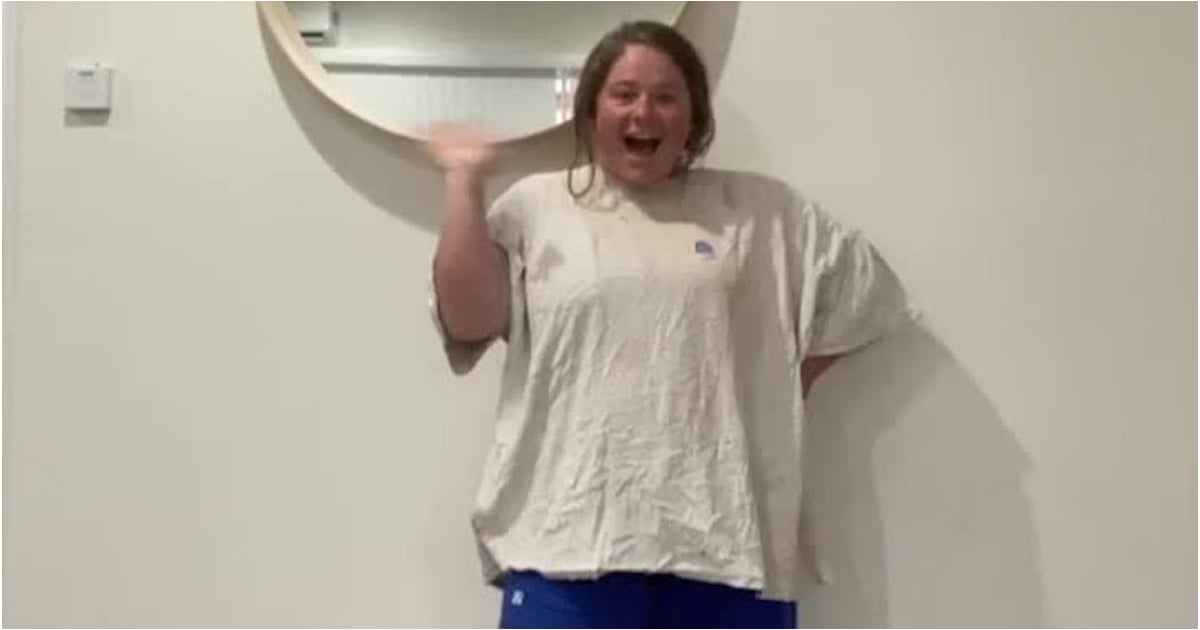 For many of us, quarantine fashion translates to whatever is cozy 一 and sometimes cute. If you've been fortunate enough to spend most of your days lounging in sweatpants or leggings, just know that we're right there with you. In uncertain times, it's nice to feel a sense of camaraderie when it comes to getting dressed 一 which is precisely why I'm so thankful for Courtney Parchman, aka @averagefashionblogger, and her LOL-worthy TikToks that are all too relatable. Parchman (known as "Corny" to her friends) prides herself on making videos that celebrate bodies of all shapes and sizes, and simultaneously calls out the fashion industry for its complicity in propagating unrealistic beauty standards. Over a year into lockdown, it's the wry humor and hilarity that I desperately need in my life.
Here, Parchman talks to POPSUGAR about the origin of the viral TikTok account, her favorite bloggers to follow, and what must-haves she's eyeing for spring.
POPSUGAR: Why did you decide to start the TikTok account?
Courtney Parchman: I started making comedic videos back in December 2016, when I was still in college. It was the week of finals, which is always when I am my absolute funniest self, and [I] asked a friend to feature me on her fashion blog. I realized how funny it would be to make a parody fashion account that had all of my outfits on it 一 that typically consist of sweats 一 and make fake tutorials. It was made just to make my friends laugh, and I believe the heart of it remains the same.
PS: What do you hope your followers will take away from it?
CP: I hope my followers leave my page knowing that it's OK to be really silly and not care so much about being the perfect person. I think social media can be a really toxic and competitive environment, but I hope when they come to my page, they feel like they can just laugh about anything and poke fun at themselves. I just want to make people feel a little better each day.
PS: Tell us the backstory behind your "Corny" nickname.
CP: My real name is Courtney, and the name "Corny" happened because I refused to respond to my friends in high school unless they called me "Corndog". Once I got into college, my college friends shortened it and called me anything that stemmed from the word "corn": Corny, Corn Chip, Corn on the Cob, Corn Nugget, Corn Star. Now, everyone just calls me Corny.
"I just want to make people feel a little better each day."
PS: What's been your most popular TikTok to date?
CP: A video of me eating Listerine strips and calling them potato chips, and eating them as such. I think it got around 14 million views, and I believe it was so popular because everyone thought that I was actually serious.
PS: Have any unexpected fans come out of the woodwork?
CP: Katie Couric following me is SUCH a treat 一 I called my mom immediately and told her. I also bug out when I think about Brie Larson following [me], and Chrissy Teigen. A few people from SNL follow me too, and it is just the biggest honor. I try not to think about it too much though, or I will make myself go crazy thinking about wanting to make them laugh.
PS: What are some of your favorite social media accounts to follow?
CP: Some of my favorite accounts to follow are @chloeiscrazy, @megstalter, @ziwef, and @coleescola. They inspire me to be smarter and funnier and goofier every day!
PS: Do you have any advice for aspiring fashion bloggers?
CP: If you're ever trying to build any sort of following for anything, do it because you love it. And if an audience follows, that's really great; if not, at least you are doing what you love.
Keep scrolling to watch Parchman's hilarious viral videos and shop her top fashion picks, beauty ideals be damned.
You can view the original article HERE.