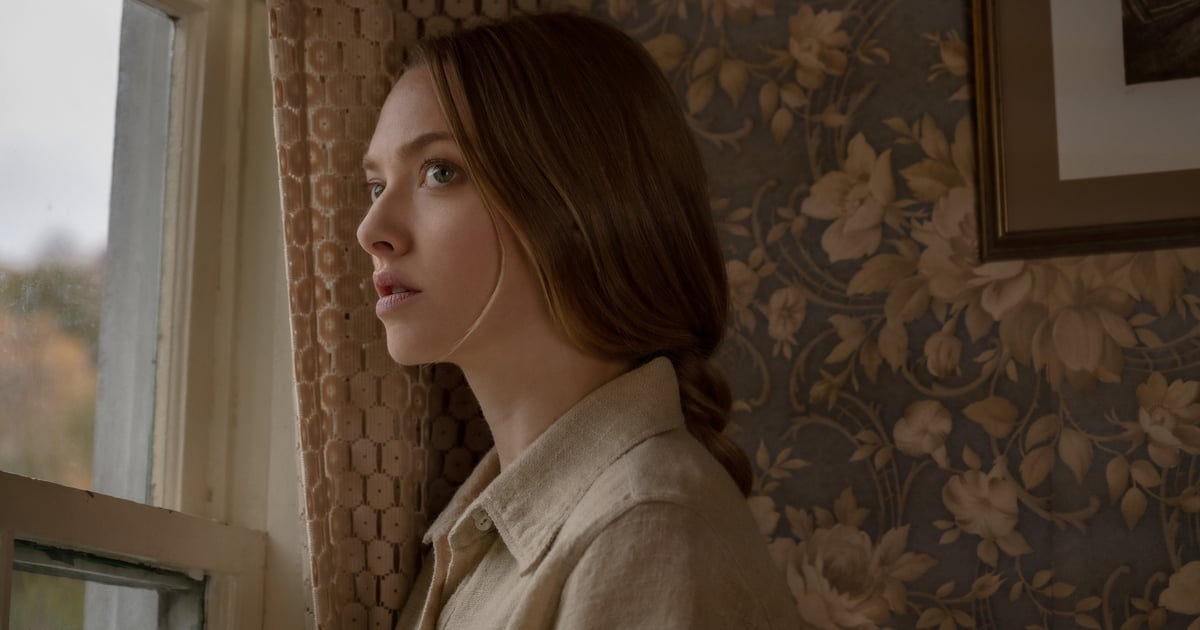 As a bookworm, I take pride in the fact that I can usually say "Eh, the book was better." However, after viewing the trailer for Netflix's upcoming thriller, I'm not so sure that will be the case with Things Heard & Seen. The movie already looks like it'll be more fast-paced than the book it's inspired by, All Things Cease To Appear by Elizabeth Brundage. While the trailer amps up the suspense and mystery right away, the book takes a more lackadaisical approach in weaving the eerie tale. If you're curious about Things Heard & Seen, coming to Netflix on April 29, here's what to know about the book version.
The Clare Family
All Things Cease to Appear centers around an old farmhouse in Upstate New York with a gruesome past. George Clare claims his wife has been murdered and that he needs someone to call for help. Catherine Clare is discovered with an axe in her head in her bedroom; she had been home alone with her 3-year-old daughter, Franny, all day. Who murdered Catherine? Well, the book won't tell you because it frustratingly bounces between several timelines. George is questioned by the police, before skipping town with Franny the next morning.
The Hale Family
The book jumps to when Cal and Ella Hale are living on their old family dairy farm. They have three sons: Eddy, Wade, and Cole. Life isn't great, but they're making the best of it. Like other farms in the area, they've fallen upon hard times. Cal takes out his frustrations on his family and turns to drinking and abusive behavior to cope. Ella knows her husband isn't faithful, and frankly, she doesn't seem to care much. She knows she is a good mom, and that her sons will grow up to be good men.
When life becomes too much, Cal dies by suicide and kills his wife by leaking gas into their bedroom. When the bodies are discovered, the brothers are swept away to live with their uncle in the nearby town. The boys can't seem to give up on the house they love. They come by the house and offer to do chores around the farm. Catherine (yes, the one who is later murdered) finds it incredibly helpful, and the boys find comfort being back on the family farm. Cole becomes their babysitter, entertaining Franny while the older two boys do the harder physical labor. They spend a lot of time with Catherine and they make her feel useful and wanted.
Getting to Know Catherine
The story jumps once again to Catherine's perspective. As a city girl, she finds it incredibly hard to settle on the 200 acres of farmland they purchased. She feels uneasy in the house but can't figure out why. Eerie instances abound; chills go down her spine when she walks through certain areas, she finds someone else's (Ella Hale's) rings near the sink while doing dishes, and she sees another woman's reflection in the window. The reader learns that George knows of the house's tragic past, but Catherine does not.
Getting to Know George
George appears to be a pitiful, helpless widow, but through a series of flashbacks, you discover that isn't quite the case. He gaslights Catherine at every turn. In fact, George and Catherine had actually broken up when she found out she was pregnant but they get married to "do the right thing." He forges a letter and his qualifications in order to get his job at the college. He becomes involved with Willis, a 19-year-old from California. He sexually and verbally abuses Willis, at one point cutting all of her hair off, just to establish control over her. He is and unfaithful, manipulative sociopath.
The Chilling Conclusion
It's a snowy day when Catherine works up the courage to leave George. She packs some suitcases and Franny in the car, then is unable to pull out of the driveway. Catherine goes back inside dejected and quickly loses steam with her entire plan. She admits to George that she was planning on leaving when he questions her about the suitcases. From there, we're led to assume that George murders Catherine, drugs Franny with sleeping medicine, and goes to work the next day.
The story concludes with an epilogue years in the future. Franny is in med school as a surgical apprentice, hating life. She is sleeping with a married man, renting a small, sterile apartment, and doesn't have much zest for life. She receives a call that her father's real estate agent has sold the old farmhouse and needs Franny to come clear out their personal belongings. George is an old man at this point, going blind from diabetes and unable to help at all. When Franny steps back in the house she feels a chill and a sense of calm all at once; she feels like she's home. She makes her rounds around the town and the book awkwardly ends with Cole and Franny making out.
Overall All Things Cease to Appear is slow burn. It's got some great bones, just as George says in the trailer for Things Heard & Seen, but the story might actually make for a better film.
You can view the original article HERE.