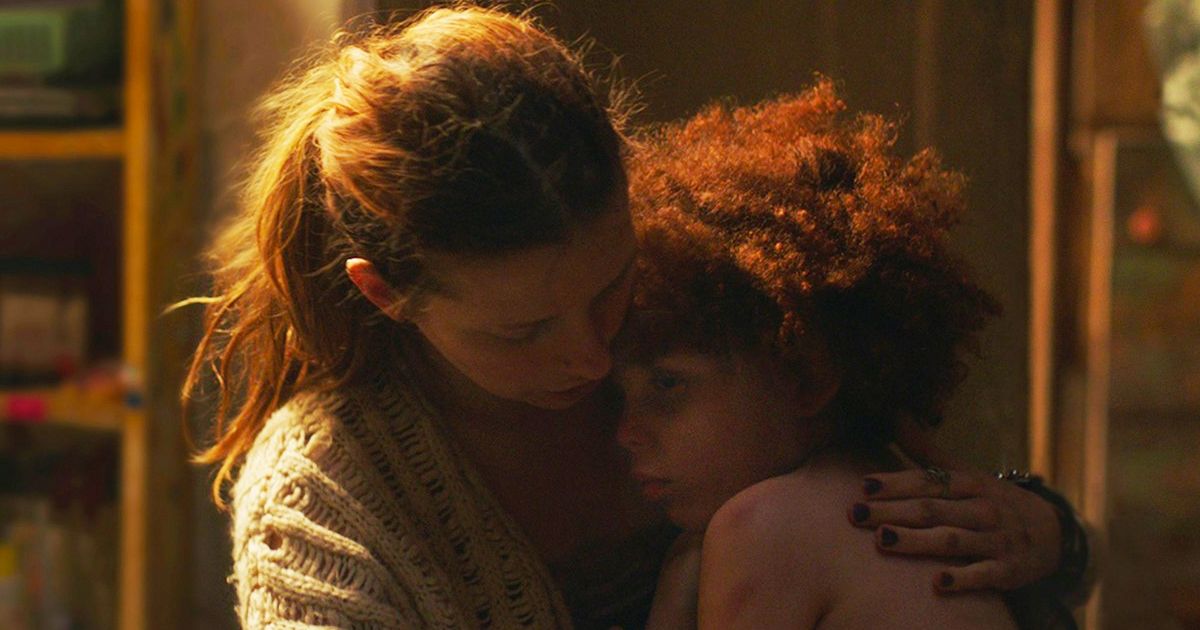 A homeless drug addict and her five-year-old daughter struggle to find shelter after fleeing an underground encampment. Topside is a harrowing portrayal of poverty and destitution. The majority of the film is seen from the perspective of an innocent child. She's taken from one dangerous situation to another. Carried by a desperate mother whose fear of authorities puts them both at risk of exploitation. Topside is tremendously upsetting. My heart ached the entire time.
Topside opens on the dirty ground of an abandoned New York City subway tunnel. Little (Zhaila Farmer) lies by a ladder leading up to a metal hatch. She watches a child's tablet waiting for her mother, Nikki (Celine Held), to return. Nikki and Little live in a ramshackle underground indigent community. They get buckets of water from an old pipe. Nikki charges the tablet and her phone at a rusty outlet. She sings to her daughter as they stare at their Christmas lights strewn ceiling. A neighbor, John (Fatlip), chastises Nikki for not having Little in school. She begs him for help getting another fix. He curses her for having a kid in the tunnel.
MOVIEWEB VIDEO OF THE DAY
Little roams around when Nikki vanishes for hours at a time. She's somewhat minded by the other homeless. John feeds her. He berates Nikki again when she returns. He refuses to help her get drugs. Flashlights and voices appear at the end of the tunnel. The MTA has come to evict them. They had been given multiple warnings. John tries to distract them from seeing Little and Nikki. The pair run away as the camp is torn down. They climb up the ladder into the subway and streets above. Little is terrified by the bright lights and noise. Nikki has nowhere to go. Tired and in withdrawal, she makes a foolish decision.
Life In the Tunnels Beneath New York City
Topside opens with a quote from "The Mole People: Life in the Tunnels Beneath New York City". Nikki and Little's subterranean dwelling is dark and dirty. But it's warm, safe, and with others willing to help them. They flee into a cold winter. Then become instant targets on the unforgiving streets. Nikki prostitutes herself for drugs and money. My blood boiled when her dealer/pimp realizes she has a young daughter. He can make "thousands" with a little girl. These scenes are horrifying. They depict an awful truth. Homeless women and children are especially vulnerable to evil predators. The tunnel seems like a terrible place. It protected them from the harsh outside world.
Celine Held, who stars as Nikki, co-writes and directs with her partner, Logan George. They pull no punches in their feature debut. Nikki is a heroin addict. She knows that the state will take Little away from her. Nikki's flawed by her love and selfishness. Having her child underground, not in school, and in the presence of abusive criminals is unconscionable. We feel for her situation. But she is guilty of child neglect and endangerment. Nikki's avoidance of law enforcement is reckless. Little's safety and well-being are paramount. The film's climax addresses this head on.
Related: Linoleum Review: Jim Gaffigan Shines Brightly in Heartfelt Dramedy with Powerful Ending
Seeing the Tunnel Through Little's Eyes
Vertical Entertainment
Topside is shot with many contrasts. The scenes underground are dimly lit and from low angles. We are meant to see the tunnel through Little's eyes. On the streets, the camera is jerky with quick edits. We are inundated with a cacophony of urban noise. This represents Little's confusion and anxiety in a chaotic environment. The final act is seen from Nikki's point of view. Celine Held is captivating in front and behind the camera. We feel her fear, hopelessness, and raw exhaustion.
Topside is an unflinching film. As a New Yorker, I was overcome with disparate emotions. The homeless plight is the city's biggest problem. Mentally ill and dangerous addicts have been a violent scourge. They do not represent the vast majority of homeless people. But mass vagrancy cannot be allowed in a civilized society. Criminals have to be incarcerated. The deranged placed in institutions. Shelters and pathways to self-reliance established for those in need.
People don't choose cold and hunger. A child should never starve in the richest and most powerful country. How many billions are wasted each year? We have the resources to tackle pervasive homelessness. Not caring and complaining is where society falls woefully short. Nikki and Little are human beings who need help. Topside reflects the stark reality for those we ignore, step over, and consider a nuisance.
Topside is a production of ELO Films, K Period Media, Likely Story, Level Forward, and Red Crown Productions. It will have a March 25th VOD and limited theatrical release from Vertical Entertainment.
These Movies Had the Most Weekends at Number One at the Box Office
Read Next
About The Author
Julian Roman
(1488 Articles Published)

Julian Roman has been with Movieweb for nearly twenty years. An avid film buff, he feels lucky to have interviewed and written extensively about Hollywood's greatest talents. In his spare time he plays guitar, treasures good company, and always seeks new adventures.
You can view the original article HERE.