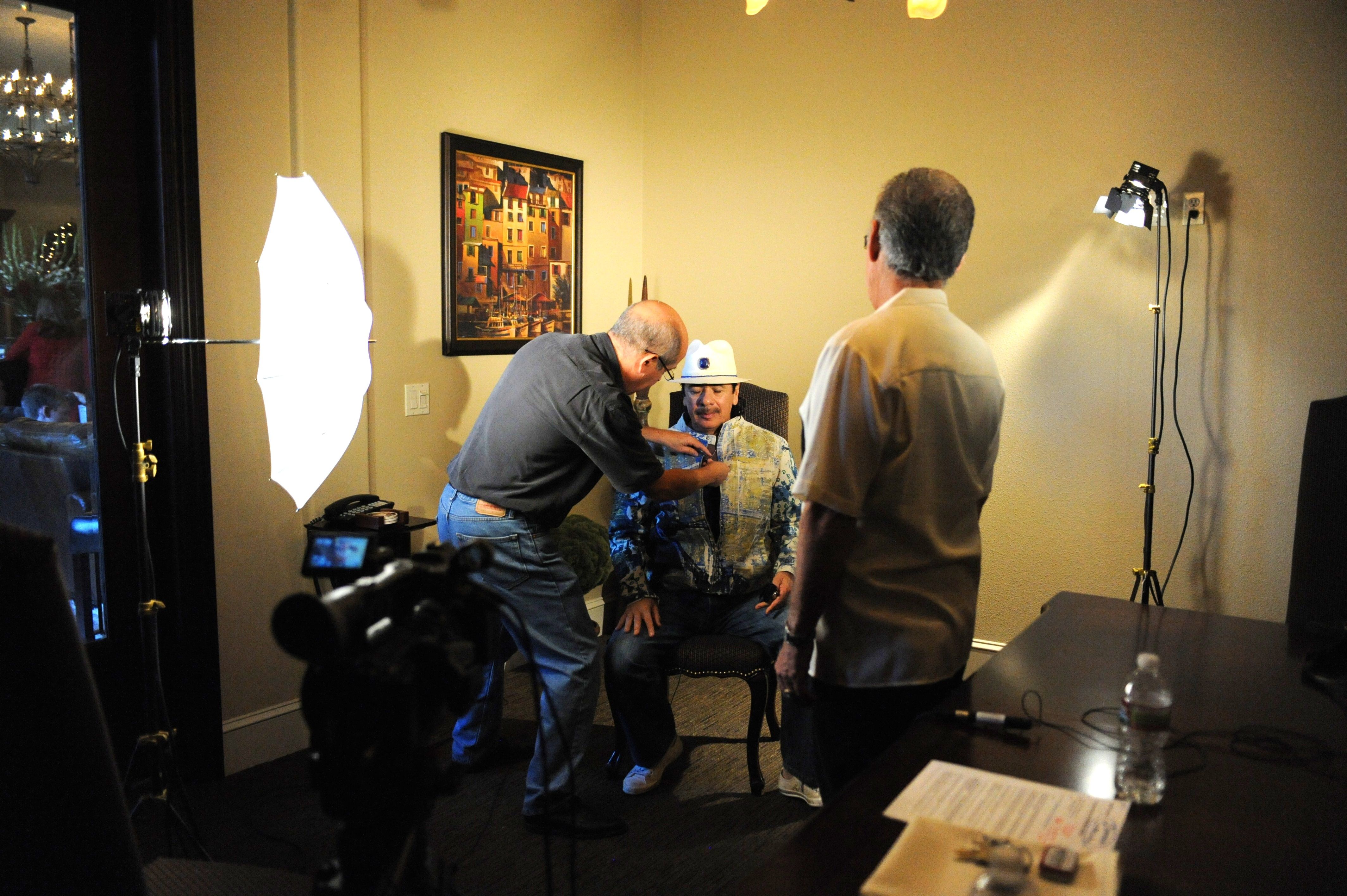 Song for Cesar is a vibrant musical retrospective of the artists who supported the plight of farm workers in America. It is not specifically a historical documentary about the life of activist Cesar Chavez. But a collection of archival footage, interviews, and recording session concerts from those who were instrumental in spreading his message. It recalls a sweeping grassroots movement that demanded change through non-violent protests. Music was a unifying and empowering force for the subjugated workers fueling the country's growth.
The sizzling twang of Carlos Santana's guitar and Abel Sanchez's rousing vocals open the film in an April 2016 music studio. Poet Laureate Maya Angelou narrates over stirring newsreels of Cesar Chavez leading farm workers in the sixties and seventies. The musicians discuss how many of them grew up in abject poverty as child laborers. Their families picked produce for less than a dollar per hour, hunched over in the searing heat. They dreamed of becoming tractor drivers to sit while working.
MOVIEWEB VIDEO OF THE DAY
Song for Cesar then sets the stage for the birth of the farm workers union. Richard Chavez, Cesar's brother, discusses their youth on California farms. They were essentially slave labor. Toiling ten hours a day, living in sheds with their families, with no access to bathrooms or medical care. People were sickened by pesticides. The injured died after preventable accidents. Cesar Chavez from a young age felt this injustice and swore to organize for better treatment.
The film pivots to wide-ranging interviews with the people who were inspired by Chavez. He loved music. Chavez grew up in the fifties as a pachuco, Mexican-Americans who wore zoot suits, danced, and went to concerts. They were different from their parent's generation. Chicano culture was born. Chavez saw their sweat fed America and enriched land owners. He needed a way to reach farm workers. Music would be the answer.
Song for Cesar's second act picks up the beat. Iconic figures Joan Baez, Cheech Marin, Taj Mahal, and Kris Kristofferson, to name a few, discuss how music funded the farm workers union. What started as Chavez on a truck with singers in a field grew to Fiestas Campesinas, huge concerts with thousands of people attending. This footage is striking. You can see the energy of jubilant crowds determined to be heard. The social justice tidal wave of the sixties and seventies were taking shape. Chavez and Dolores Huerta, co-founder of the United Farm Workers Union (UFW), became household names. They were vilified in the media as leftist rabble-rousers. But were gaining traction in their mission for workers rights.
Song for Cesar Provides Realistic Insight
Song for Cesar
Song for Cesar shows the brutal backlash protestors faced. Peaceful demonstrators were regularly beaten and shot. Joan Baez and Taj Mahal are examples of those who wrote tribute songs to the innocents taken for speaking truth to power. Workers killed in cold blood because they wanted fair wages. There are stark interviews with musicians who performed with guns literally to their heads.
Song for Cesar also explores the contributions of painters and writers. The UFW labor movement used posters and murals as visual representations of their people. Chicano artwork depicted workers in a truthful manner. It helped to forge a common identity and raise cultural awareness. These scenes are especially uplifting.
Related: Exclusive: Roberto Bentivegna on Writing House of Gucci
Dolores Huerta and Cruz Reynosa, a former associate justice of California's Supreme Court, give a frank epilogue. Chavez, the artists, activists, and farm workers made monumental strides. Conditions and wages have improved substantially, but the battle hasn't nearly been won. Song for Cesar teaches and inspires with a head-bobbing, toe-tapping beat. It is a remarkable remembrance of a man and movement.
Song for Cesar began as a 2004 musical tribute by Abel Sanchez and Jorge Santana. The film is directed and produced by Sanchez and Andres Alegria. It will have a limited theatrical release on March 11th from Juno Films.
Netflix Confirms Seasons 2 and 3 of Vikings: Valhalla
Read Next
About The Author
Julian Roman
(1475 Articles Published)

Julian Roman has been with Movieweb for nearly twenty years. An avid film buff, he feels lucky to have interviewed and written extensively about Hollywood's greatest talents. In his spare time he plays guitar, treasures good company, and always seeks new adventures.
You can view the original article HERE.