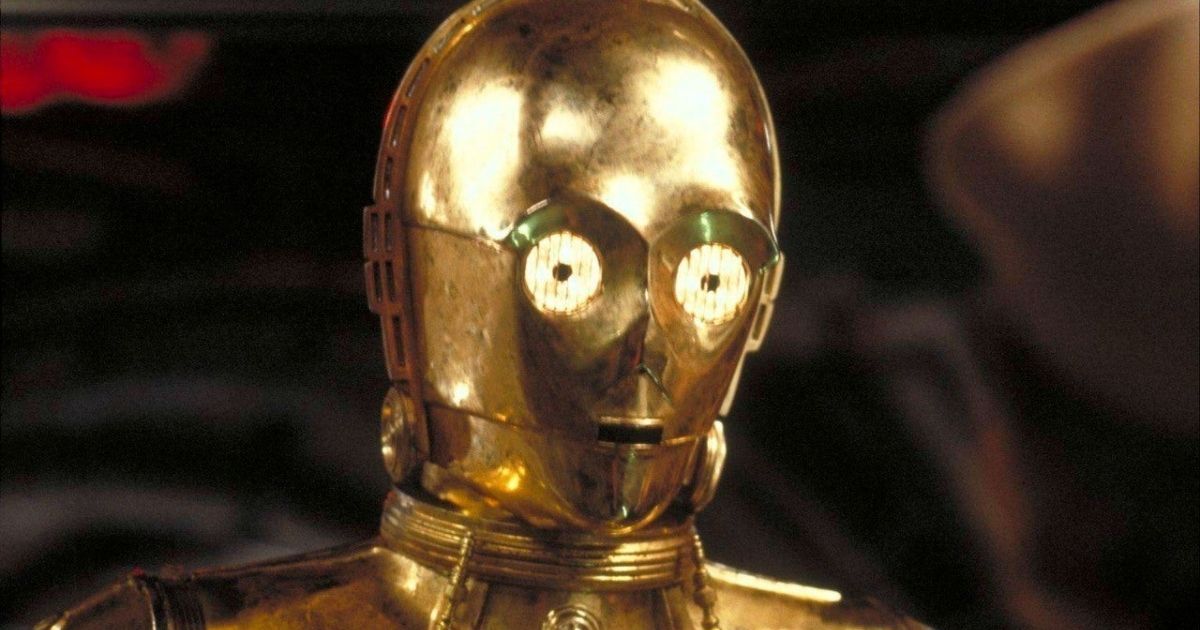 Summary
Star Wars fans can bid on the original C-3PO headpiece worn by Anthony Daniels in Star Wars: A New Hope.
Registration is open for serious bidders, and proxy bids will open on October 10th.
The auction also includes other C-3PO themed pieces, as well as a large collection of Blade Runner memorabilia.
In November, Star Wars fans will have the chance of a lifetime to own an original piece of everyone's favorite golden droid, C-3PO! More accurately, the very headpiece worn by the actor Anthony Daniels in Star Wars: A New Hope. According to Forbes, the piece will be going to auction via Propstore and is expected to sell between $575,000 and $1,150,000. The auction itself is expected to go live on November 9th, 2023 and will run through Sunday, November 12, 2023.
Registration is open now for serious bidders, proxy bids will open on October 10th. The C-3PO head in question is part of a collection owned by C-3PO himself, Anthony Daniels, who expressed excitement in the auction.
"I'm thrilled that Propstore has agreed to curate my collection, and I trust that the pieces will go into the right hands. I hope this can bring pleasure to Star Wars fans and collectors all around the world and give them a chance to own a piece of the real thing."
The collection also includes several other C-3PO themed pieces, both props as well as merchandise. Such pieces include a pair of C-3PO fingers from Star Wars: A New Hope, Daniel's handwritten Ewok Village speech page from Star Wars: Return of the Jedi, and an unopened C-3PO cereal box. Found and CEO of Propstore, Stephen Lane, stated that it was a "huge privilege to be offering such a remarkable collection from a true Star Wars legend."
But C-3PO won't be the sole star of the auction. Pieces that will be up for grabs include the largest collection of all things Blade Runner, which include memorabilia, props, and production items. Such pieces include Harrison Ford's chair, costume designer Charles Knode's personal costume bible, and more. The collection will be cosigned by Blade Runner archivist, Geoff Hutchins.
Other pieces going up for auction include a Harrison Ford signed bullwhip from Indiana Jones and the Temple of Doom, Stanley Kubrick's hand-annotated script from The Shining, Freddy Krueger's screen-matched hero metal glove armature from A Nightmare on Elm Street, and much more! A trailer for the auction can be viewed below:
RELATED: These Are the Most Expensive Movie Props Ever Sold
The Legacy Of The Golden Droid C-3PO
20th Century Fox
The impact of C-3PO goes all the way back to Star Wars: A New Hope, where C-3PO and his companion R2-D2 are introduced prior to our hero Luke Skywalker. Interestingly, Daniels was initially uninterested in the role. When speaking about the legacy of the role with Wired, Daniels tells the story of what changed his mind.
"Back in 1975 I hadn't wanted to meet a director called George Lucas. I wasn't interested in his sci-fi movie until I saw Ralph McQuarrie's conceptual artwork of the character. He had created this android figure that was standing, looking out of the frame towards me and we really connected. I fell in love with it! I slightly think 3PO fell in love with me, but I'm not sure."
Since dawning the golden armor, Daniels has continued to proudly perform the famous golden droid. He is the only actor to have either appeared in, or been involved, with all theatrical films of the Star Wars series. He's also reprized his role in various spin-offs, such as television series, radio serials, and video games. Most recently, he made a comeback in Ahsoka, in the episode "Part Seven: Dreams and Madness." Check out his full retrospective of playing C-3PO below:
You can view the original article HERE.