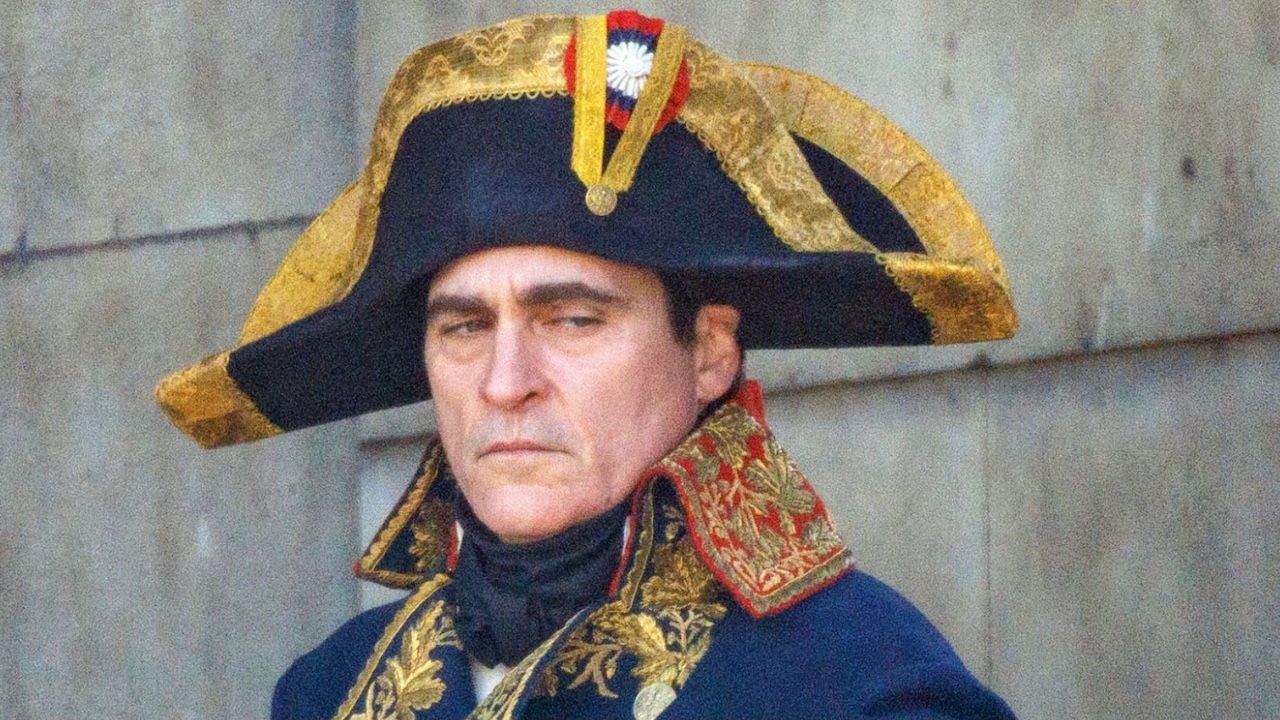 Joaquin Phoenix is making history as a man with a Napoleon complex. Via People, the 47-year-old actor was seen on the London set of the new Ridley Scott movie Kitbag on Tuesday, March 8th, in costume as the French emperor Napoleon Bonaparte. This is the second time that Scott and Phoenix are teaming up for a big-screen extravaganza, the Academy Award-winner worked with the Alien director on the 2000 film Gladiator.
CREDIT: CLICK NEWS/GOFF/SPLASHNEWS.COM
Kitbag was originally coming from 20th Century Studios, where Scott Free had its deal and is written by All the Money in the World screenwriter David Scarpa and produced by Scott and Kevin Walsh. But in 2021, when Scott's deal ended with 20th Century, the project became available to other major studios and Apple Studios auctioned the historical film. When the movie was announced in 2020, the project was described as focusing on Napoleon's historic battles, ambitions, and strategy that made him a historic military leader. The title Kitbag comes from the saying, "There is a general's staff hidden in every soldier's kitbag."
MOVIEWEB VIDEO OF THE DAY
Napoleon rose to power during France's revolutionary wars and became emperor in 1804. He was a ruthless, violent leader who left his mark on the world by pillaging property and artifacts that were not his to take (many of these artifacts are now housed in museums across the world and are constant sources of inspiration for films dealing with oppression like Black Panther and Indiana Jones, which look at how these practices impacted communities for decades into the future). In 1814, Bonaparte was exiled to Elba, but in a move Zim of Invader Zim would be proud of, he just sort of quit being exiled. He again reigned as emperor until his defeat at Waterloo in 1815, when he was then re-exiled to St. Helena, where he died in 1821 at the age of 51.
Kitbag to Explore Bonaparte's Relationship with Josephine
CLICK NEWS/GOFF/SPLASHNEWS.COM
"Napoleon is a man I've always been fascinated by," Scott told Deadline. In January 2021, Apple Studios announced its commitment to funding the project, and shooting began in early 2022. "No actor could ever embody Napoleon like Joaquin," Scott said (fans who want to learn more about Phoenix brothers should check out Fantagraphics' I Never Promised You a Rose Garden by Mannie Murphy). "He created one of movie history's most complex Emperors in Gladiator, and we'll create another with his Napoleon. It's a brilliant script written by David Scarpa, and today there's no better partner than Apple to bring a story like this to a global audience."
Instead of the usual take, Kitbag will look at the leader through the prism of his addictive and volatile relationship with his wife and one true love Josephine, played by Vanessa Kirby, who replaced Jodie Comer in the role. Of Napoleon's relationship with his wife, Scott said, "He came out of nowhere to rule everything — but all the while he was waging a romantic war with his adulterous wife Josephine. He conquered the world to try to win her love, and when he couldn't, he conquered it to destroy her, and destroyed himself in the process."
Jodie Comer Joins Joaquin Phoenix in Ridley Scott's Napoleon Biopic Kitbag
Read Next
About The Author
Rebecca Kaplan
(102 Articles Published)

Rebecca Kaplan (she/he) has a JD and an MS but believes comics do more good than law. His work can be found at Prism Comics, MovieWeb, Geek Girl Authority, PanelxPanel, StarTrek.com and Comics Bookcase, and in Double Challenge: Being LGBTQ and a Minority, which she co-authored with his wife, Avery Kaplan.
You can view the original article HERE.