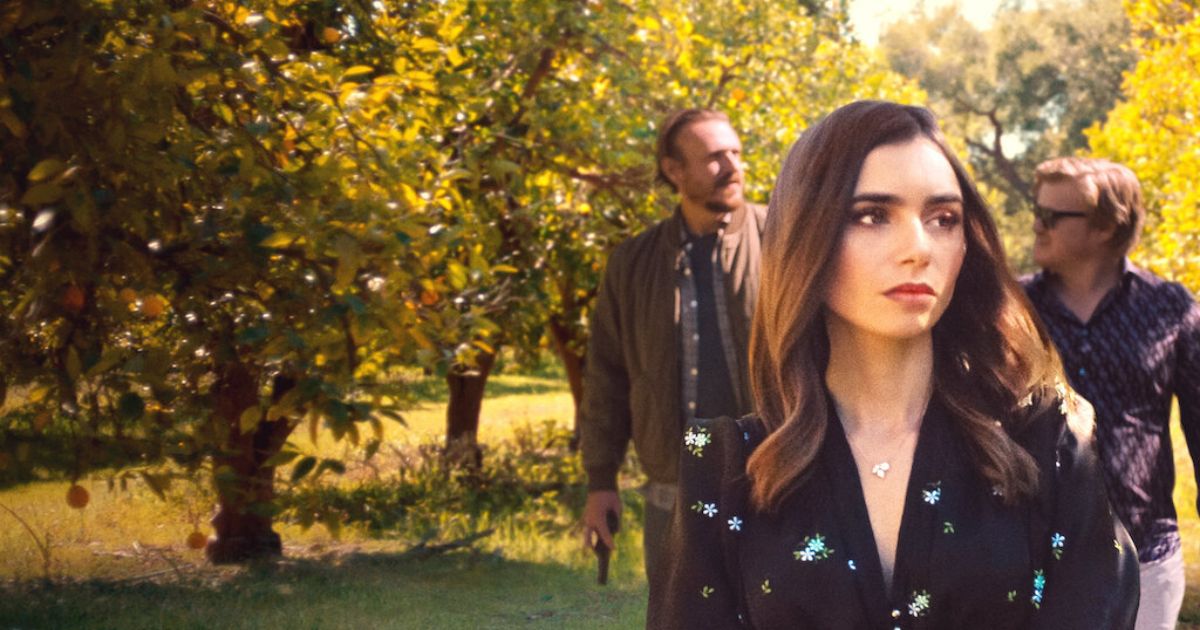 "Hell is other people," one character famously says in Jean-Paul Sartre's play No Exit, about three people stuck in a room for all eternity. The new Netflix movie Windfall explores an hour and a half of that hell, similarly featuring three very different people emotionally torturing each other with mind games. Except, in Charlie McDowell's tense film, hell is a beautiful Californian estate belonging to two characters held at gunpoint, in a home invasion movie unlike most others.
Jason Segel, Lily Collins, and Jesse Plemons star as the only actors in this efficient and acidic little film (give or take five minutes of one additional character), and are all incredible; they'd almost be at the top of their game if they weren't such good actors already. The three of them (and others) also produce the film along with McDowell, who developed the story with Segel. They are somewhat close bedfellows (literally so, in the case of married couple Collins and McDowell), having all worked together previously. A tight-knit cast and crew make the most out of their one-location bottle movie, like a good deal of Covid-era cinema, but unlike most of them, Windfall is pretty fabulous.
MOVIEWEB VIDEO OF THE DAY
Jason Segel's Performance
Netflix
A man wanders a vast mansion, holding a glass of orange juice from the nearby groves. He stares out at the stunning vista pensively, sipping his juice while surrounded by a gorgeous pool, manicured foliage, and expensive amenities. He aimlessly wanders the property, eating an orange here, appreciating a painting there. He goes into the luxurious bathroom, opens the sliding glass door onto the fine marble shower, and urinates inside it. This is not his home.
He wasn't stealing anything other than a glass of orange juice, but as he's leaving, he suddenly has a change of heart, deciding to take up burglary almost on a whim. He browses the home silently for something valuable; this mistake, the downfall of greed, will act as the catalyst for the remainder of Windfall, a taut thriller with a good sense of humor and a strong running commentary on class consciousness.
Netflix
Jason Segel plays 'Nobody,' which is the name ascribed to his character by the film (though some sources list him as le cambrioleur, the French term for burglar, pointing back to our aforementioned Frenchman, Jean-Paul Sartre). This is a fitting name, as the audience knows nothing about this man, and never will. Additionally, Collins plays 'Wife' Jesse Plemons plays 'CEO,' indicating that these are more or less archetypal stand-ins, signifying a strong desire to be interpreted.
Segel is an incredible actor, but the way that he's underrated is incredible as well. He's best known as a lovable goofball from comedies like Forgetting Sarah Marshall (which he wrote) and the hit series How I Met Your Mother, but his acting and writing skills are greater than just these titles suggest. Between writing and starring in a surprisingly good and charming Muppets movie, portraying legendary writer David Foster Wallace and playing the hell out of it in the biopic End of the Tour, and creating, writing, directing, and starring in the magical, brilliant Dispatches From Elsewhere, Segel is honestly one of the most interesting talents of our time.
Related: Here's the Real Reason Jason Segel Hasn't Been Seen in a Comedy for Years
What he does in Windfall is doubly interesting, because he literally has no backstory, nothing to work with whatsoever, and yet he manages to create a rewarding and complex character. When he is interrupted by the owners of the home, he thinks (and sometimes doesn't) on his feet and does what he can to keep control of the situation, working with CEO and Wife to try and get out of the situation safely. Unfortunately, the people he's working with are a handful.
Jesse Plemons' Performance
Netflix
Plemons digs into his character like a fox, cleverly burrowing deep into the character's psyche while the rich executive tries to do the same with his unexpected 'houseguest,' playing cat-and-mouse mind games while tarrying with the upper hand. Nobody can say Plemons gets typecast; he can be winningly sympathetic in intricately humane characters (Fargo, Power of the Dog, Friday Night Lights), but he also plays a compelling psychopath (Breaking Bad, Black Mirror), and something uncannily in between (I'm Thinking of Ending Things). In Windfall, he embraces the entitled, megalomaniacal CEO without making him a caricatured villain, which is again something very difficult for a character with little background.
The only thing the audience really knows about CEO is that he's rich, making billions off of an algorithm and tech company that essentially helps other rich companies fire their employees. The character is a stand-in for whichever well-known billionaire comes to mind, but also a representation of the pushback and anger that many people of privilege feel in a society that's grown antagonistic toward the so-called 99%. "How can people be so mad at me?" he asks, before half-answering his own question without an iota of self-awareness. "I'm supposed to apologize for writing an algorithm that saves companies money and enriches the lives of hundreds of employees?"
Related: These Are the Best Movies About Capitalism
A lot of the film feels like a play, and criticism that it doesn't take advantage of the cinematic medium and is instead more of a theatrical production (as Sartre's No Exit was) are probably warranted. That doesn't diminish the power of some scenes, though. A tense breakfast conversation, while the three wait for a duffel bag filled with $500,000, taps into the collective anger toward the ultra-rich (and their reflective dismissal and disgust in turn). CEO bemoans a society of "lazy fu**ing loafers and freeloaders," saying in a Cartesian way that they believe, "I exist, therefore I am owed something."
"Try being a rich white guy these days!" CEO shouts. "Everyone always thinks it must be real fu**ing nice […] There's an infinite target on my back!" Jason Segel's Nobody looks on, bemused and befuddled at the entitlement of CEO. Perhaps a well-known saying came to his mind, that when you're accustomed to privilege, equality looks like oppression. Meanwhile, Wife sits aside, staring at CEO, her disgust gradually building.
Lily Collins' Performance
Netflix
Collins plays Wife in what is so far arguably the greatest performance of her career. Her writer/director husband gave her an excellent part, and Collins relishes the opportunity with gusto. Granted, she's generally been perfect for many breezy romantic comedies (Emily in Paris, Love Rosie, Stuck in Love), but over time has delved into some surprisingly brutal, emotionally raw, and excellent performances, such as the anorexic protagonist of To the Bone and her work in Inheritance.
In Windfall, her comedic timing and natural magnetism almost distract from the fact that she's playing a character who is completely transforming over the course of the film. The rich and more submissive (but equally entitled) Wife we see at the beginning of Windfall is deconstructed, broken, and laid bare, before coming back together at the startling conclusion of the movie. As Nobody and CEO struggle for dominance and power over the situation and everyone gets emotionally and psychologically manipulated, Wife gradually grows more and more sickened by her husband and upset over her life.
Collins admittedly has more to work with than Segel and Plemons, providing more backstory throughout Windfall as she bickers with CEO and is used by him to try and befriend Nobody, before growing to sympathize with him and ultimately questioning the entire nature of her life in a wonderfully developed existential crisis for a character.
The emotional centerpiece of the film is a fireside chat between her and Nobody, during which she tells the story of her wedding day and the moment in which she looked down at her feet, contemplating the utterly antithetical lives she would lead depending on if she turned away from this marriage or walked toward the altar that day. Shots of these feet reoccur throughout McDowell's film, suggesting that Windfall is more or less her tale, and that perhaps Nobody and CEO represent those two lives, the life without marriage and entitlement (a Nobody) and a life with an egotistical and dominant husband (a CEO).
Windfall Meaning
Netflix
The term 'windfall' means an unexpected and completely unearned profit or gain, but it also quite literally refers to something that gets blown down by the wind. "You're so disgusting, I feel sick," Nobody tells CEO, before furiously screaming, "and nothing feels fair! You have everything, and I have nothing!" It's a viscerally powerful scene, made all the more so by the incredible work from Segel and Plemons, sitting face to face in the dark, one of them tied to a chair. Disgust and anger are often appropriate emotions to injustice, inequality, and the triumph of evil and exploitation; the film details this splendidly.
It sometimes seems like everything is arbitrary, and nobody gets what they deserve. Life's a windfall that way, with both goodness and suffering often unearned, and usually unexpected. Let's not forget, however, the secondary meaning of the term. Even mighty trees, seemingly sturdy and towering over every little bush, succumb to the unexpected gust, toppling over in a violent windfall.
End of the Tour Trailer Starring Jason Segel & Jesse Eisenberg
Read Next
About The Author
Matthew Mahler
(72 Articles Published)

Editor and writer for Movieweb.com. Lover of film, philosophy, and theology. Amateur human. Contact him at matthew.m@movieweb.com
You can view the original article HERE.