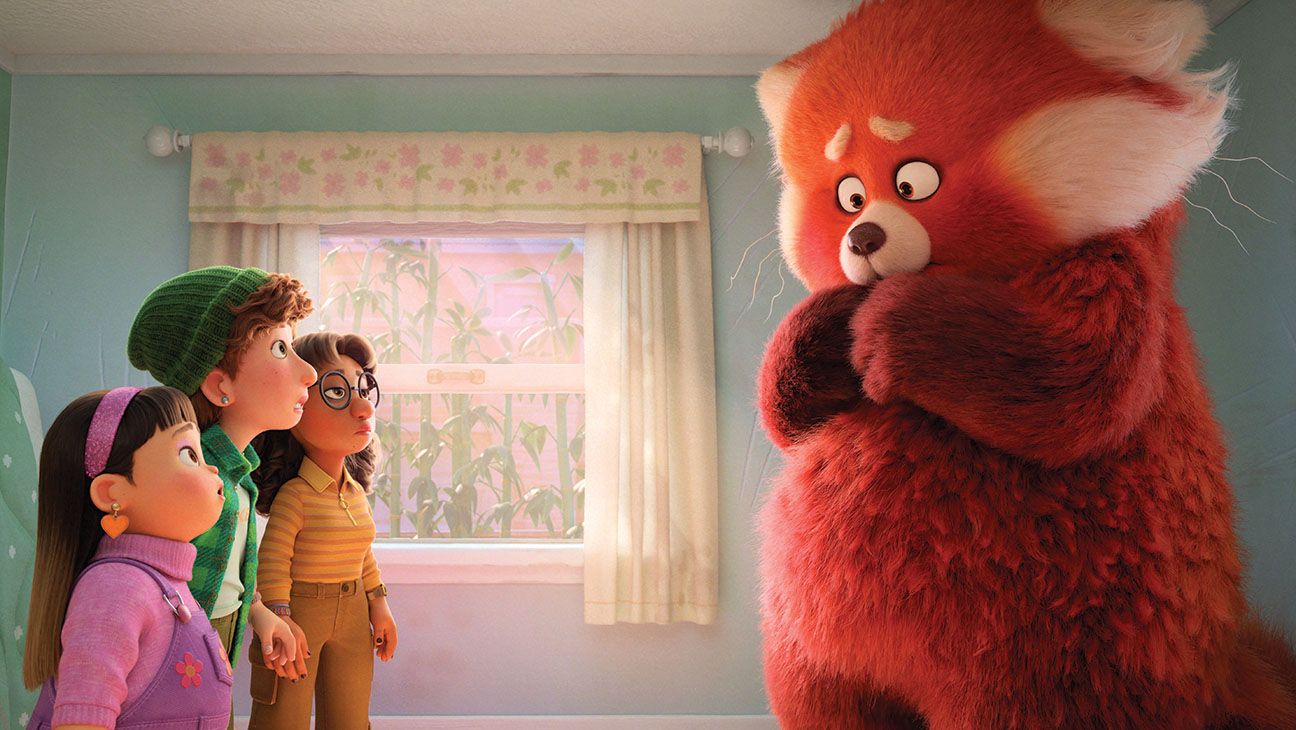 Turning Red takes a transformational moment for girls into a hilarious and brilliantly creative exploration of adolescence. The film uses a family's greatest secret as an ingenious allegory for reaching puberty. Getting your first period should not be an embarrassing or taboo subject for discussion. Growing up is a whirlwind of physical and emotional changes. Turning Red embraces that awkwardness with CGI humor and heart. Pixar continues to be groundbreaking.
Turning Red is set in 2002 Toronto, Canada. Meilin "Mei" Lee (Rosalie Chiang) is a thirteen-year-old girl who thinks she's got everything figured out. If only her mother, Ming (Sandra Oh), wasn't so strict and demanding. Mei has to hide her true feelings. She's madly in love with Devon (Addie Chandler), the cute cashier at the local pharmacy. She's also desperate to see the boy band 4-Town with her goofy best friends (Ava Morse, Hyein Park, and Maitreyi Ramakrishnan).
MOVIEWEB VIDEO OF THE DAY
Mei's family runs a temple that gives tours about their ancestors. The red panda is their spirit animal. A spectacularly humiliating incident causes Mei to panic. The flood of emotions leads to a shocking surprise. Mei turns into a big red panda when she's agitated. What initially seems like a curse becomes a source of strength. But Mei's newfound confidence does not sit well with her protective mother.
Turning Red And Themes
Turning Red tackles many themes with a deft touch. Mei's Chinese heritage plays a big part of her life. She has nothing but respect for her elders. The problem is that her mother views other influences as corrupting. Ming's efforts to control every aspect of her daughter's life results in more rebellious behavior. They see the red panda in different ways. Letting go and allowing a child to find themselves is terrifying for a parent. Ming also matures with Mei on her journey. These scenes are superbly written.
Director/co-writer Domee Shi, who won an Oscar for her 2018 short "Bao", is exceptional in her feature debut. Mei and her besties are knockdown funny nerds. Their 4-Town concert schemes are a laugh riot. Shi nails the silly antics of obsessed teens. She captures the innocent sweetness of being young and having your first real crush. Her greatest accomplishment is referring to menstruation without any character speaking directly about it. It's handled with visual cues and slapstick comedy. This is a fantastic way to deliver a straightforward message to younger audiences. More than half of the population have periods. There is no shame to a biological fact of life.
Turning Red has wonderful animation. Anime elements are used at certain times to evoke specific responses. Mei and her friends get googly eyes every time they banter about boys. Domee Shi also uses hard cuts when Mei gets mischievous. These scenes are markedly different from the red panda action. It's a dynamic use of style that gives the film an original and captivating look.
Pixar thankfully keeps Turning Red lighthearted throughout. You won't be bawling buckets like Up and Inside Out. Turning Red is an absolute joy to behold. I can't think of a children's or family film that handles puberty this cleverly.
Turning Red is a production of Pixar Animation Studios and Walt Disney Pictures. It will be available to stream on March 11th on Disney+.
The Batman's Paul Dano Makes Surprise Appearance in SNL Sketch with Zoe Kravitz
Read Next
About The Author
Julian Roman
(1477 Articles Published)

Julian Roman has been with Movieweb for nearly twenty years. An avid film buff, he feels lucky to have interviewed and written extensively about Hollywood's greatest talents. In his spare time he plays guitar, treasures good company, and always seeks new adventures.
You can view the original article HERE.