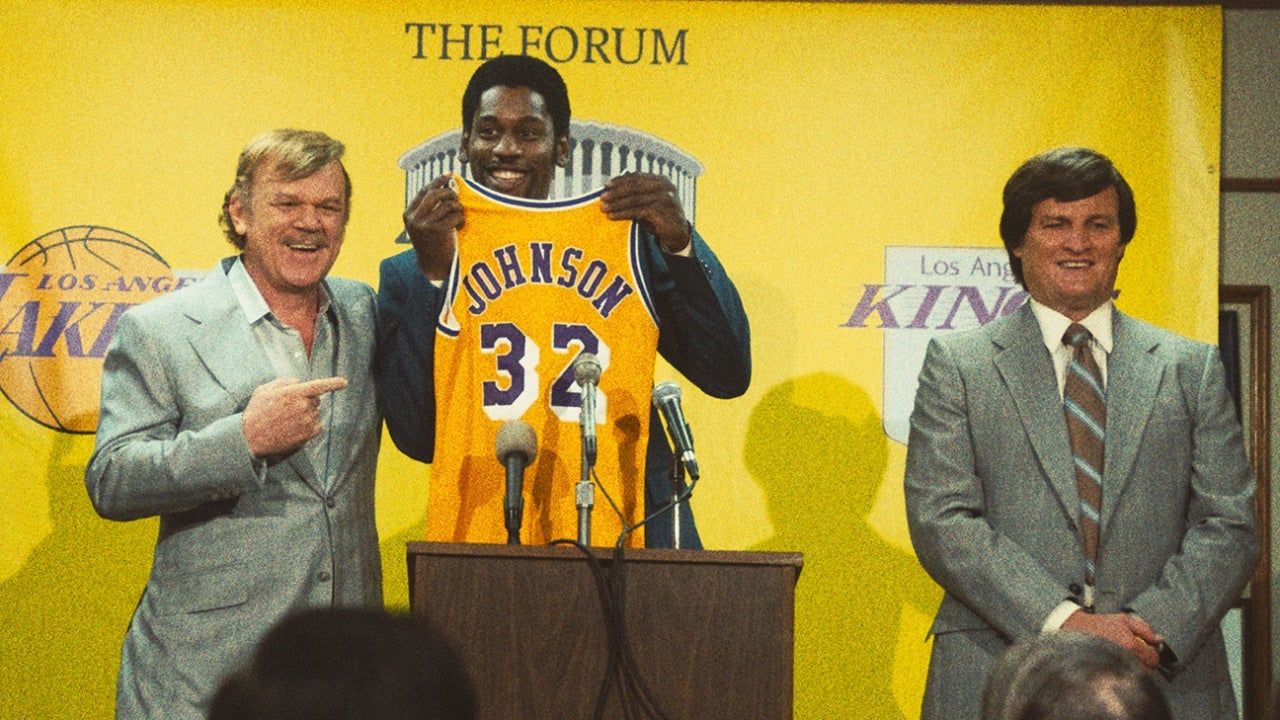 In 2019, Adam McKay and Will Ferrell called it quits. Like children of a messy divorce, audiences everywhere were upset and curious as to why the creative geniuses behind Gary Sanchez Productions and Funny or Die would end on such a sour note, after having created some of the most famous comedies of the past two decades (Anchorman, Step Brothers, The Other Guys, and more). Turns out, it was over a casting decision; McKay chose Michael Shannon (who later dropped out) and then John C. Reilly, over Will Ferrell, when casting the role of former Lakers owner Dr. Jerry Buss in a biographical series.
Now, audiences can see what the fuss was all about with the new HBO series Winning Time: The Rise of the Lakers Dynasty and determine for themselves whether the split was worth it after all. The show, which airs Sunday nights at 9 pm EST or anytime on HBO Max, doesn't seem to be worth it so far, though hardly anything could be worth losing the collaborative efforts of Will Ferrell and Adam McKay. Winning Time seems slightly superfluous for now, though could become something far greater, which could arguably have been said about the Lakers basketball team when this show begins (so things are promising).
MOVIEWEB VIDEO OF THE DAY
Adam McKay Tries For Another Win
HBO
Winning Time is a bold show nonetheless, an interesting curiosity for most but probably a prerequisite for both basketball and Adam McKay fans. The story of the Lakers dynasty is being directed by various people (with the next episode by Jonah Hill) and mostly written by Max Borenstein and Rodney Barnes; however, the pilot was directed by Adam McKay, and it looks as if the whole series has been 'McKayed.'
Related: Adam McKay Reveals Why Will Ferrell No Longer Speaks To Him
By now, viewers know whether they like the direction Adam McKay has gone in or not. Switching from absurdist comedy to intelligent factual dramedy (The Big Short, Vice), the director's work in Winning Time certainly fits his oeuvre as of late, along with his stylistic tics. Love him or hate him, McKay has a distinct style — breaking the fourth wall, intertextuality, the freeze-frame with sarcastic words slapped on the image, and the incorporation of a massive constellation of stars are all prominent (and perhaps tired) features of his work now.
Hot off the surprisingly huge success of the critically disliked Don't Look Up, the new HBO series has a similarly hard time balancing humor, drama, and facts as that film; viewers may again find themselves wondering, "Is this supposed to be funny?" Fortunately, the comedy isn't really essential to Winning Time, which has a great dramatic arc and wonderful cast of characters built into it (thanks to real-life history).
Time For Another Lakers Story
HBO
The series follows the freewheeling, hard-partying, kind-hearted Dr. Jerry Buss, an iconic figure played jovially and delightfully by John C. Reilly, as he purchases the Los Angeles basketball team in 1979, drafts Irving "Magic" Johnson (played by newcomer Quincy Isaiah), and attempts to make the Lakers (and basketball itself) the hottest thing in American culture. Buss butts heads with Jerry West, who is expertly portrayed by Jason Clarke, though is so far written as not much more than a hot-tempered caricature.
Focusing on Buss is a brilliant decision, something which saves Winning Time from complete redundancy, because without this central protagonist, the story has already been exhaustively and wonderfully told in the five-hour documentary Celtics/Lakers: Best of Enemies, the great Ezra Edelman's documentary Magic & Bird: A Courtship of Rivals, and the Broadway play Magic/Bird. On top of all that, Magic Johnson has his own docuseries coming out on AppleTV+ and Hulu has a nine-part documentary coming this year. The story has been told, and sometimes documentaries tell the story best, straight from the proverbial horse's mouth; the recent Being the Ricardos fictionalized something that the even more recent and superior Lucy and Desi did better.
Winning Time could very well be superfluous if it strays far from Buss, because he (as played by Reilly) is magnetic. A doctor in physical chemistry who went on to work in the aerospace industry before becoming wealthy from real estate, the playboy (who owned a Playboy Club) took his love of poker and gambled on a purchase of the Los Angeles NHL team along with its NBA team, the Lakers (when the latter had only won the NBA finals once in 25 years despite being a good team). The team would go on to the NBA finals seven of the next nine years, winning five championship titles out of those seven appearances.
Buss makes a great contrast in Winning Time to the casual racism so often seen in the show and its period setting. The series doesn't directly point out that it was only rich white men who 'owned' these predominantly Black teams (until 2003), but it gets pretty close at addressing the discomfort of seeing Black bodies be bargained over by aging white men. There is something inherently exploitive about a lot of sports, but Winning Time locates the gross feeling of buying bodies at a time when dog whistling was practically audible to human ears.
In one amusing scene, an announcer talks about Larry Bird in certain glowing ways, with McKay's typical text crowding the screen, first with words of praise and then just the word 'white' repeated over and over. Johnson gets announced next, and the words 'physical specimen' appear before being obfuscated by the word 'Black' sprawled across hundreds of times. The NBA is made up of three-quarters of Black players and still only one Black owner, and still suffers from racism.
Related: Mike Epps Will Finally Play Richard Pryor in HBO's L.A. Lakers Series
When the show isn't focusing on Buss and racial dynamics, it tends to lag and retread familiar ground. The rags-to-riches story of any athlete can make for some powerful material, but Winning Time seems to be a bit by-the-numbers when it comes to fleshing out Magic Johnson's story like this. There are endlessly familiar beats here — the parents who worry about their son, the girlfriend who doesn't want Los Angeles and fame to change the budding athlete, the confidence and cocksure attitude of a small-town star who gets overwhelmed by intimidating business and big-city values.
"You Can, Like, Eat the Color"
HBO
What's less typical is the bold approach to filmmaking on display in Winning Time. Not just Adam McKay's now-standard devices (which are fun, but were never really that original to begin with), but the cinematography and the way the series looks and feels. It's immediately disarming at first; one might think they're watching documentary footage or something in syndication. Director of photography Todd Banhazl does an incredible job recreating the almost tactile feel of that era's media, using VHS-style camerawork in many scenes with a washed-out, bright, and dirty effect. He experimented with this technique before on a music video for The Strokes, Bad Decisions, but has never gone this far.
Shooting on a period video camera called the Ikegami, these scenes are almost disorienting in their effect; the audience isn't just seeing something set in the past, it's literally seeing the past, through the mediums it used. This is stitched together with 8mm, 16mm, and, most often, 35mm reversal film stock similar to the old Ektachrome look. Banhazl has accurately told Digital Trends, "It's grainy and dirty and you can, like, eat the color," something which was aided by different photochemical manipulations, like underexposure and push processing.
They used tube cameras from the 1980s, the same kinds which were used to film basketball games of the time, and utilize '70s-style zoom-ins, close-ups, and cutting, combined with archival footage of the period which blends in seamlessly. The ultimate result may be intentionally ugly at times, but it's utterly brilliant. As Banhazl said in the same interview, "We ended up with something like an American culture mixtape. It's a collage of America at that time."
The filmmakers even recreated a scene from the movie Airplane, in which a young boy spots Kareem Abdul-Jabbar masquerading as an airline pilot before criticizing his contributions to the Lakers. The Winning Time version is practically indistinguishable from the classic parody film, from the choice of actors to the set design, to the actual film stock and framing. It's jarring, funny, fascinating, and bizarre all at once.
Winning or Losing?
HBO
But is it worth it? Why go into such painstakingly meticulous and ingenious detail to recreate something for which there's already more than ample archival footage (as testified to by the aforementioned five-hour documentary)? Technically brilliant as it might be, Winning Time occasionally just feels like it's showing off just for the sake of it, perfectly recreating things just to play with them dramatically. Gus Van Sant had a failed experiment in the '90s to see if he could make a shot-by-shot remake of Alfred Hitchcock's iconic Psycho. He did, but of course, it was panned.
Critic Roger Ebert determined that there was something which lies beyond perfect recreation, no matter how technically brilliant; he writes, "The movie is an invaluable experiment in the theory of cinema, because it demonstrates that a shot-by-shot remake is pointless; genius apparently resides between or beneath the shots, or in chemistry that cannot be timed or counted." If Winning Time wants to find its own genius, it needs to navigate that space between the shots, not just masterfully recreate them. Sticking with the wonderful protagonist Jerry Buss, and John C. Reilly's winning portrayal of him, is a start.
Adam McKay Addresses Don't Look Up Criticism: 'You're Never Going to Appeal to Everyone'
Don't Look Up is set to become Netflix's most watched movie of all time, and Adam McKay has addressed its critics.
Read Next
About The Author
Matthew Mahler
(60 Articles Published)

Editor and writer for Movieweb.com. Lover of film, philosophy, and theology. Amateur human. Contact him at matthew.m@movieweb.com
You can view the original article HERE.