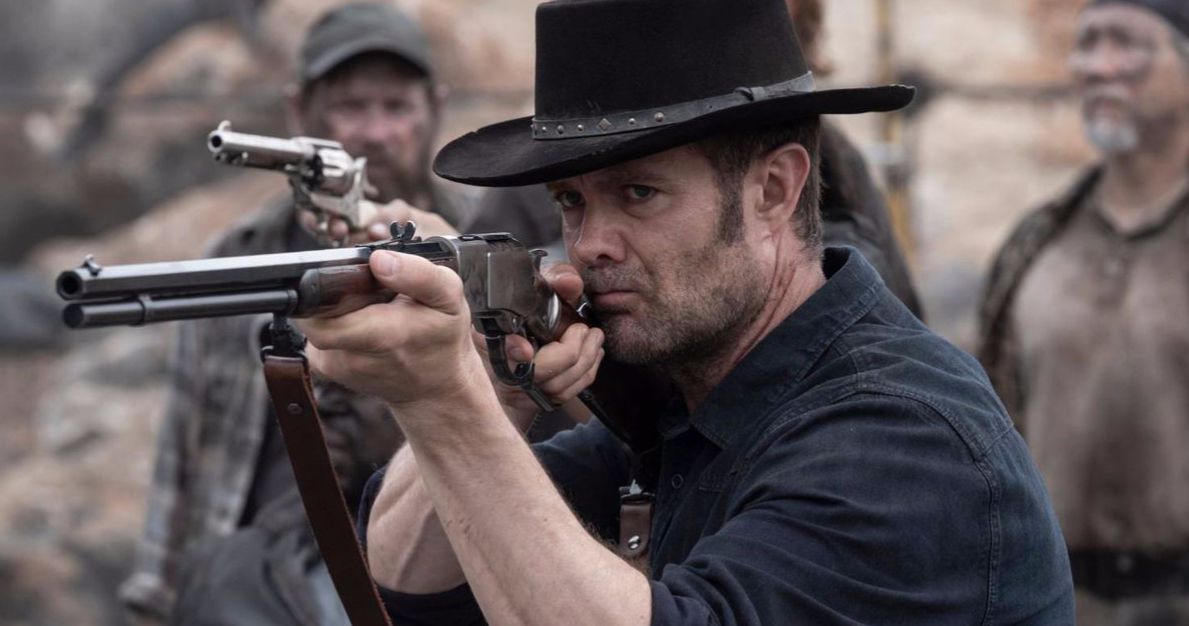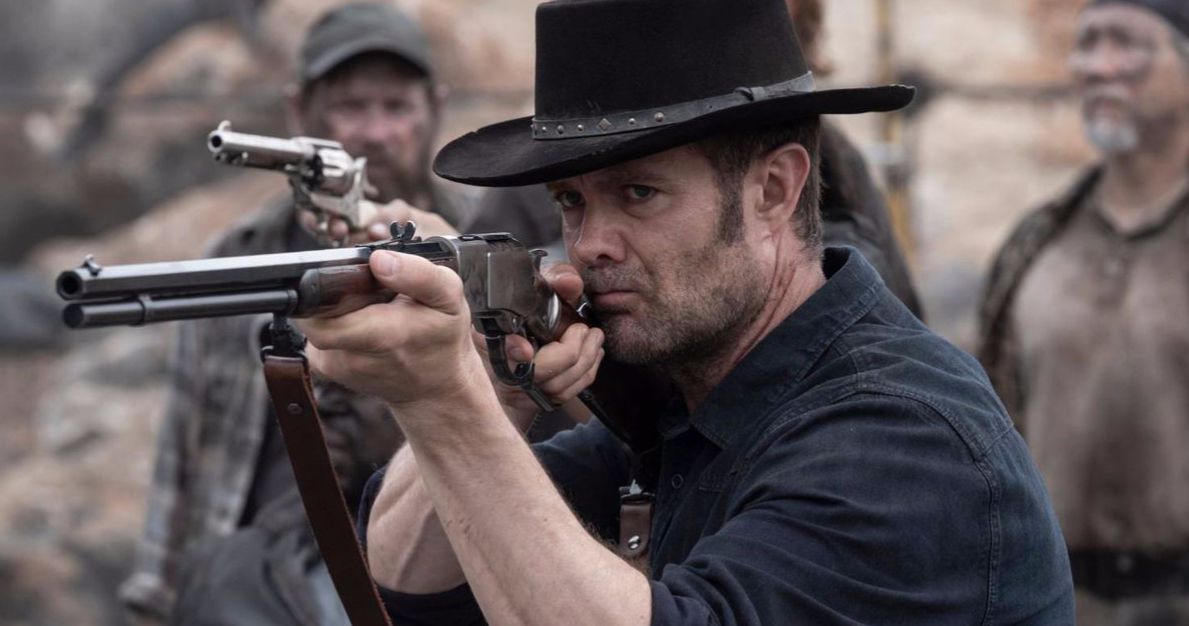 Fear the Walking Dead threw a huge curveball into the season five storyline. "Leave What You Don't" saw Logan's (Matt Frewer) true intentions revealed, but at a considerable price. Luciana (Danay Garcia), Sarah (Mo Collins), and Dwight (Austin Amelio) face a showdown at the oil quarry. Alicia (Alicia Debnam-Carey) and Strand (Colman Domingo) struggle to reach a rescue. A new villain and far more dangerous group is revealed.
"Leave What You Don't" opens in the past with Logan leaving a supply box by the side of the road. He gets a call on his rig's CB radio. A desperate woman, Serena, is trapped at an outpost he set up on mile marker 65. Logan calls "Polar Bear." Clayton is supposed to be on that route. He gets no response. He tells Serena to "sit tight" and "lock the doors." He's coming, but Serena's calls get more frantic. Logan cannot reach Clayton. His truck runs out of gas. Logan races on foot to get, but finds her body being ripped apart by walkers. He weeps outside after killing the undead. An armed group on horseback approach. Ginny (Colby Minifie) introduces herself. She's been listening on the radio. She wants to help as well, but "bigger and better."
MOVIEWEB VIDEO OF THE DAY
At the oil quarry, Dylan (Cooper Dodson) and Max (Ethan Suess) put white rats in cages. They hang them in front of walkers, who are tied to a turnstile. Pumping the oil as they reach for the critters. A fire burns under a tank that separates the fuel. Everyone is covered in oil and soot. Wendell (Daryl Mitchell) tells Luciana they're running "3,000 gallons ahead of schedule." Annie (Bailey Gavulic) keeps inventory. Wendell drinks a beer and complains about the filth. They hear a truck approaching.
Logan and Doris smash through the gate. Luciana and Wendell draw their guns. Logan says hello to "Dom" and "Pete", former colleagues with Clayton. He confronts Luciana, "Stop giving orders and start taking them. Like the boxes say, take what you need, leave what you don't. We need all of this."
On the road, Alicia continues to paint the phoenix on trees. She's still trying to contact Wes (Colby Hollman). Strand reminds her Wes didn't want their help. A woman calls for help from mile marker 65. She's stuck at the same outpost. Alicia radios John (Garret Dillahunt) and June (Jenna Elfman) in the MRAV. They're racing to the oil quarry. They know Logan has found it. Everyone else is out of radio range. June orders them to help the woman at the truck stop.
At the quarry, Logan marvels at the use of walkers to pump the oil. Doris gives him Clayton's journals. Wendell asks how he found them. Logan "watched your little movies" and saw the journals. He throws them in the fire, much to Luciana's dismay. She wants to know why he's doing this. Logan replies he wants to help, just not in a way they would agree to. He won't reveal his intentions. Luciana refuses to show them how to distill the oil.
Logan radios his men on the road. He needs them to "start cooking". Their pick-up comes to a roadblock. Sarah jumps out with her gun, followed by Dwight. He's glad he didn't kill Logan's fuel guy. They'll use the truck to get into the quarry. Sarah shoots a round by the baddie's ear. She means business.
At the quarry, Logan looks at his watch and a map. There are key symbols all over it. Luciana tells Logan they need to put out the distillery tank fire. It's getting too hot. The smoke will start attracting walkers. The pick-up drives up. Sarah and Dwight come out with their guns drawn. Logan's men raise their rifles. A rifle shot kills a walker at the turnstile. John and June are at a sniper position above the quarry. Sarah demands he leave, but Logan calls her bluff. They had a chance to kill him before. Sarah draws down. She regrets what they did to Clayton. Logan offers a deal. The children can leave, but everyone else has to "get to work."
Sarah demands a car and gas for the kids. Annie doesn't want to leave, but Luciana orders her to meet up with the convoy. She promises Max to care for the rats. On the road, the woman continues to call for help. She won't tell Alicia her name. Their truck runs out of gas. Alicia and Strand take off on foot.
At the quarry, Dwight and Luciana continue to warn Logan the fire is too big. He ignores them, get back to work. Wendell wonders "why the hustle?" Why does he need all of the fuel? Who's the gas for? Logan says his people will help, but not like their "mom and pop" operation. He thanks Sarah and Wendell for his viewpoint. He flashbacks to hearing Serena get torn apart. They had stranded Clayton the day Serena called for help. Sarah and Wendell were responsible for Logan's change of heart. The scene cuts to Alicia and Strand running towards the outpost.
June radios that they have to leave the quarry. A herd of walkers is approaching the cliff. John starts taking head shots. The walkers fall into the quarry as the distillery tank blazes. Doris demands Luciana put the fire out. She can't, it's burning too hot. Walkers are overrunning the quarry. Dwight screams for their weapons. The walkers at the pump have stopped.
Logan struggles to get the walkers moving again. Doris and his men abandon him. Wendell yells that they have to leave now. He, Sarah, Dwight, and Luciana make a break for Logan's tanker. Logan won't leave. He has a "contract." Smoke and fire cloud the yard. Sarah sees Logan fall, but cannot leave him. She tells the others to get out. Sarah drags Logan into the radio shack.
In the shack, they hear the woman calling for help on the radio. She's at marker 65. Logan responds back, asking if she sees a poster for sunscreen on the wall. We get our first glimpse of the woman. She has the door barricaded, but the walkers are breaking through. She responds yes. Logan realizes it's the same place. He tells her where to find his gun. There's one bullet left. Logan glosses over. He radios that no one will come for her, "You're on your own sweetheart."
On the ridge, walkers are now attacking John and June. Annie comes back with Rabbi Jacob (Peter Jacobson) and Tess (Peggy Schott). They start shooting the walkers on the ridge. At the outpost, the girl realizes what she has to do. She puts the gun to her head. Logan and Sarah listen as the walkers break through, followed by a series of gunshots.
Wes has come to her rescue. He also heard the woman on the radio. He's come to "pay it forward." In the radio shack, Sarah reminds Logan they help people. There's "no reason to throw this all away." Alicia and Strand arrive at the outpost. They're surprised to see Wes. He's seen the trees Alicia's painted. The woman warns them they can't stay. There are people looking for her. Alicia replies that she (Holly Curran) is with them now.
At the quarry, the walkers have been cleared. Logan's men and Doris return with their guns drawn. Logan tells them to put the guns down. Doris wants her "ticket to the promised land." Logan orders them to lower their weapons. He's had a change of heart. Logan is shot through the eye. More sniper shots ring out, killing Doris and all of Logan's men. Armed riders appear along the ridge. Ginny leads a large group of riders and an armed contingent into the quarry.
Luciana screams, "You killed him!" Ginny casually replies they had to, he was a liability. Logan couldn't be trusted. A key logo on her lapel is clearly visible. She dismounts. Ginny knows who they are. Maybe they can help each other. Ginny calls her people "pioneers." They're settling everywhere in big numbers. She offers to help Dwight find his wife. Then to help June find a place for their group to live. They had brokered a deal with Logan to fuel their expansion. Ginny wants their help to keep the oil pumping. Sarah responds by telling her to shove that offer "up her poop chute."
Ginny is not amused. She won't be left "high and dry." Her men raise their guns. Luciana offers to stay and help them distill the oil. Let her friends leave with a tanker of gas. The journals are gone, but she can help them keep going. Sarah drives the tanker out of the quarry with the others following. June looks back as Luciana is left with Ginny and the Pioneers.
"Leave What You Don't" lurches the show in another completely unexpected direction. Logan's quest for the oil ends with a bullet through his brain. His plotline comes to an absurdly abrupt ending. Ginny and the Pioneers literally appear out of nowhere. It's ridiculous to think a group of their size has been lurking in the shadows. The plot twist is nonsensical, but I'll fully embrace the new villains. Fear the Walking Dead has been terrible since the midseason premiere. A radical change was needed. We'll see if Ginny can inject some entertainment value. Fear the Walking Dead continues next week on AMC.
Prime Video Releases Eerie Outer Range Trailer
Read Next
About The Author
Julian Roman
(1476 Articles Published)

Julian Roman has been with Movieweb for nearly twenty years. An avid film buff, he feels lucky to have interviewed and written extensively about Hollywood's greatest talents. In his spare time he plays guitar, treasures good company, and always seeks new adventures.
You can view the original article HERE.