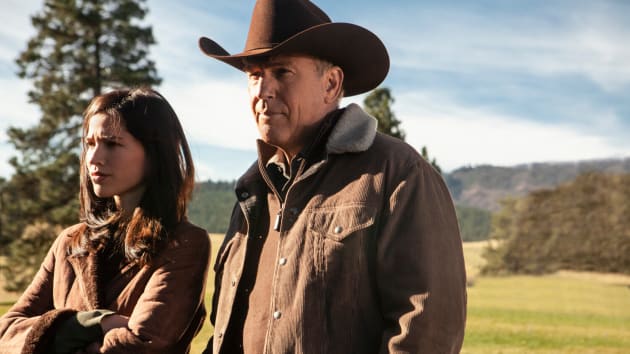 Is Kayce still stuck in the middle, or have both sides decided to push him out of the reservation?

On Yellowstone Season 1 Episode 5, we learned his post-arrest fate and why the cops were after him, but it didn't entirely make sense.

[Note: This review is based on the unedited version of the episode available on streaming services, so there may have been minor differences if you watched on CBS.]

The tribal police picked up Kayce because of the two dead kidnappers he helped dispose of.

Granted, they didn't know at first that the bodies belonged to white predators and not indigenous people, but it seemed strange that they would arrest Kayce over this.

Danny asked him to help with this because the non-tribal cops would care more about dead white men than about indigenous kidnapping victims, and now the tribal police were taking the same position.

On the other hand, it seemed like Rainwater was leaning toward looking the other way now that he knew that Kayce was trying to protect indigenous lives, despite his weird comment about legality and morality sometimes being at odds.

We'll never know what would have happened because Jamie burst into the meeting and finagled Kayce's release based on the fact that they couldn't implicate him without implicating Ben, thanks to the switched gun slides.

Rainwater's resentment once Jamie showed up made me wonder if the arrest was retaliation for John having Rainwater arrested on Yellowstone Season 1 Episode 3. He now has every reason to hate all the Duttons, though he should be aware that Kayce has often acted to protect indigenous people on the reservation.

It also may have been a ploy to get Kayce's slide back so they can continue investigating what happened to Monica's brother. However, I thought that Rainwater already knew, based on his fireside conversation with Kayce earlier in the season.

Jamie again did John's bidding, bringing Kayce back and helping attempt to manipulate him and Monica into moving to the ranch. But in the end, John didn't want him because he wasn't evil enough.

There are reasons John keeps his distance from Jamie, as we'll learn later in the franchise, but at this point, it feels like he echoes Beth's sentiments about Jamie being too soft to be worth bothering with.

Although John is still involved in a war for his ranch, both with the developers and the indigenous population (assuming Rainwater continues to get in his way), he is preoccupied with getting Kayce to move with his family to the ranch during the hour.

I don't know if he's right that Kayce will end up dead or in prison if he remains on the reservation. If Kayce communicates with the tribal leaders instead of going vigilante, he'll probably avoid further legal trouble.

But John would have to avoid unnecessary conflicts with the tribal leaders, and he's unwilling to do that, even to save Kayce. So, Kayce getting his family out of there makes the most sense for him.

John has little understanding of the issues plaguing the people who live on the reservation, so it didn't make sense to him that Monica wouldn't jump at the chance to teach Native American studies at the university instead of working at an underfunded school on the reservation.
Monica: You're offering me a job?
Mel: I absolutely am.
Monica: You don't understand. When a teacher leaves the reservation, there isn't a line of teachers taking their place. There's just one less teacher. If I leave, my kids will suffer. And they've suffered enough.

It was as if they were speaking another language — or came from another culture, which Monica does despite the way indigenous people's way of life has been attacked and destroyed throughout history.

John couldn't understand how giving the kids on the reservation a fighting chance at a decent life could be more important than making the money to provide Tate with the best life has to offer.

But this conflict is far from over. John has found the leverage he needed in his adorable grandson, who wants to stay on the ranch and burst into tears when Kayce scolded him about saying their home on the reservation sucks.

As Tate grows older, he too will understand what it means to have one foot in indigenous life and culture and the other in the privileged world of the Duttons. But right now, he loves the attention he gets from John and likely has picked up on the poverty and oppression on the reservation, even if he can't verbalize it.

His parents already agreed to stay one night; how likely is it that he'll convince them to stay longer — that is, if Monica's witnessing the branding ceremony isn't enough to make her want to take off for the reservation and never look back?

I'm surprised Tate didn't hear Beth's drunken screams or have any questions. He's very inquisitive about everything else!

Beth and Jamie's altercation in the car was one of the episode's most compelling moments.

These two will have many such arguments as the series progresses; they've never gotten along, and it gets worse after a secret about Jamie comes to the surface.

But this first one was powerful. Drunk and uninhibited, Beth expressed the trauma at the root of her behavior: her mother's harsh treatment of her, blaming her for her death before sending her away to get help that she knew wouldn't arrive in time.
Beth: You gotta watch them die, Jamie. You gotta watch your mother look you in the eye without any love in her heart, not even a little. That's losing, Jamie.
Jamie: Beth. If hating me stops you from hating yourself, you can hate me. That's what family is for.

Jamie's response gets me every time. Later, it seems like he's forgotten the root of their issues, but at this point, he's willing to absorb all of Beth's anger so she won't turn it against herself.

It's a beautiful moment that proves that all the animosity between them is surface-level crap, at least on Jamie's part. He does love Beth despite how aggravated he gets with her.

Jamie ended up in the car with Beth because Rip was busy recruiting Walker and getting him branded.

All that nonsense with Fred on Yellowstone Season 1 Episode 4 makes sense. John needed a plausible reason to send Rip in search of a recruit at the prison who would be willing to be branded and become part of the Yellowstone family.

Walker becomes an integral part of the ranch and is one of those people who seems like he's always been there.

He fit in, making fun of Jimmy without being overly mean and displaying a softer side when he took out his guitar.

Your turn, Yellowstone fanatics! Hit that big, blue SHOW COMMENTS button and let us know your thoughts.

Need a refresher? You can watch Yellowstone online first.

Yellowstone is halfway through its fifth season, but CBS offers an encore presentation of the first season on Sundays after 60 minutes.
Edit Delete
Jack Ori is a senior staff writer for TV Fanatic. His debut young adult novel, Reinventing Hannah, is available on Amazon. Follow him on X.
You can view the original article HERE.