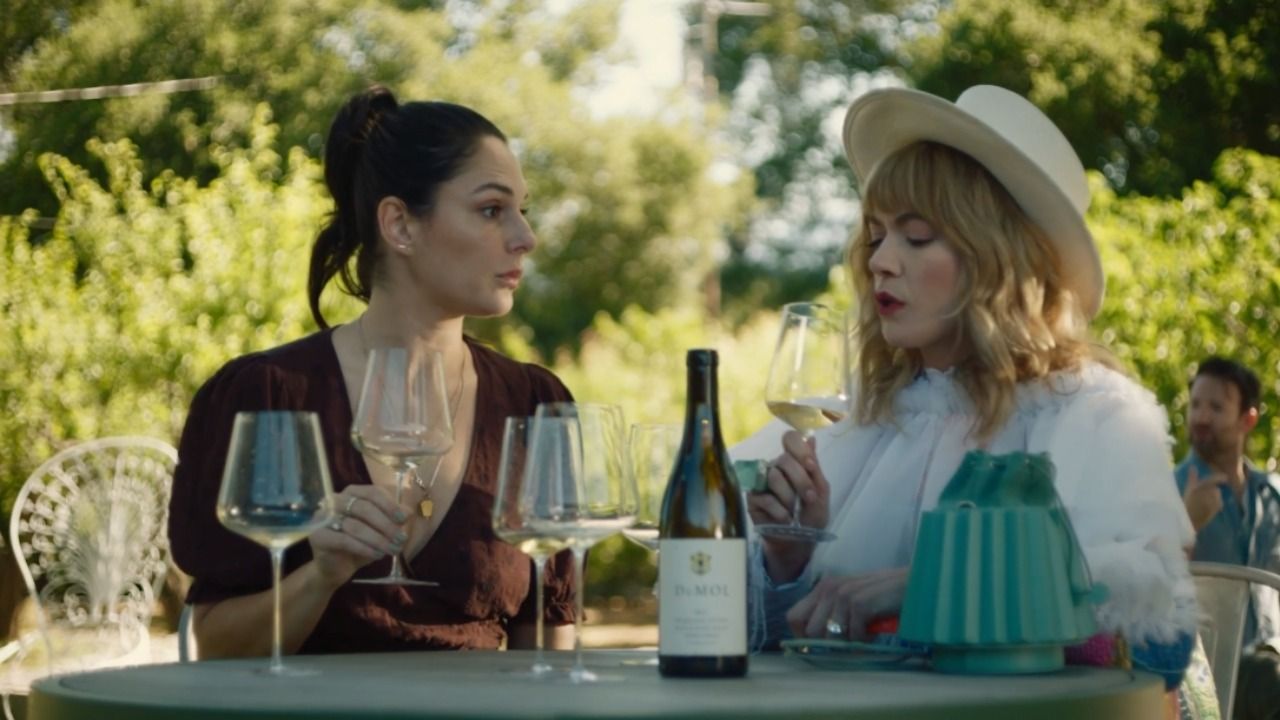 The new comedy feature Pretty Problems will be making its world premiere at South by Southwest (SXSW) Film Festival on Monday, and we have an exclusive clip to unveil ahead of the event. Directed by SXSW alumni Kestrin Pantera, the film goes into wine country as a couple's relationship is put to the test as they try to fit in with a weekend of wine and wealth. In our exclusive clip, which you can check out below, things get a little awkward when everyone ends up ordering excessive alcoholic beverages, which we can presume will lead to some interesting results.
The synopsis for Pretty Problems reads: "Stuck in a rut professionally and in their marriage, Lindsay (Britt Rentschler) and Jack (Michael Tennant) are invited to wine country for a long weekend by Cat Flax (JJ Nolan) an ultra-wealthy housewife who has a vape pen in one hand and a glass of wine in the other. Upon arrival at the big glass box house on top of a hill, they're introduced to Matt Flax (Graham Outerbridge) a self-made billionaire who knows and owns how successful he is, and how privilege has provided for him. Along for the weekend are Carrie (Charlotte Ubben) an actress/model/dancer/whatever who's the arm candy of Matt's best friend Kerry (Alex Klein) a trust fund kid whose grandfather invented the tater tot.
MOVIEWEB VIDEO OF THE DAY
The staff at the home includes Dan (Clayton Froning) an ex-Sea World trainer turned majordomo, Becca (Katarina Hughes) a Rhodes Scholar playwright who now plans parties, Georges (Tom Detrinis) a master sommelier, and Gigi (Vanessa Chester) a shaman who is on call and ready to fix all the Flax's short-term problems. Lindsay and Jack's relationship is put to test over the weekend by the excess of wine and wealth that Lindsay wants, and Jack is afraid of."
Related: These Popular Movies Premiered at SXSW Film Festival
Pretty Problems Makes Its World Premiere at SXSW
Described as "Nine Perfect Strangers at the White Lotus in Schitt's Creek," Pretty Problems premieres on Monday, March 14 at the Zach Theater in Austin, Texas, for SXSW. Director Kestrin Pantera's last feature, Mother's Little Helpers, also held its world premiere at SXSW in 2019 before it was released in 2020 with Gravitas Ventures. The "Big Chill-esque dramedy" earned several awards including Best Feature Film, Best Director, Best Ensemble Performance, and Best Actress.
This year's SXSW marks a return of the in-person festival after going digital for two years. Janet Pierson, VP, Director of Film at SXSW, said of this year's event, "The last two years have been complicated, and full of uncharted new waters for all of us. While there's been innovation in building community in isolation and figuring out how to pivot, we've intensely missed being able to gather together. For our 29th edition of SXSW Film Festival, we are thrilled to share a bounty of creative work to experience together, in-person, with some virtual possibilities, as well. There are fantastic new projects to enjoy from a variety of voices, with, as always, surprising new discoveries."
Pretty Problems is directed by Kestrin Pantera and written by Michael Tennant with a story by Britt Rentschler and Charlotte Ubben. Rentschler, Ubben, and Tennant also produced with Katya Alexander. Find out more about South by Southwest Film Festival at SXSW.com.
Explained: Does the Spawn Movie Deserve its 17% Rotten Tomatoes Score?
Read Next
About The Author
Jeremy Dick
(5228 Articles Published)

Jeremy Dick has been a writer and editor since 2014. He is a self-professed horror expert, pop culture enthusiast, and Bob Saget fanatic.
You can view the original article HERE.