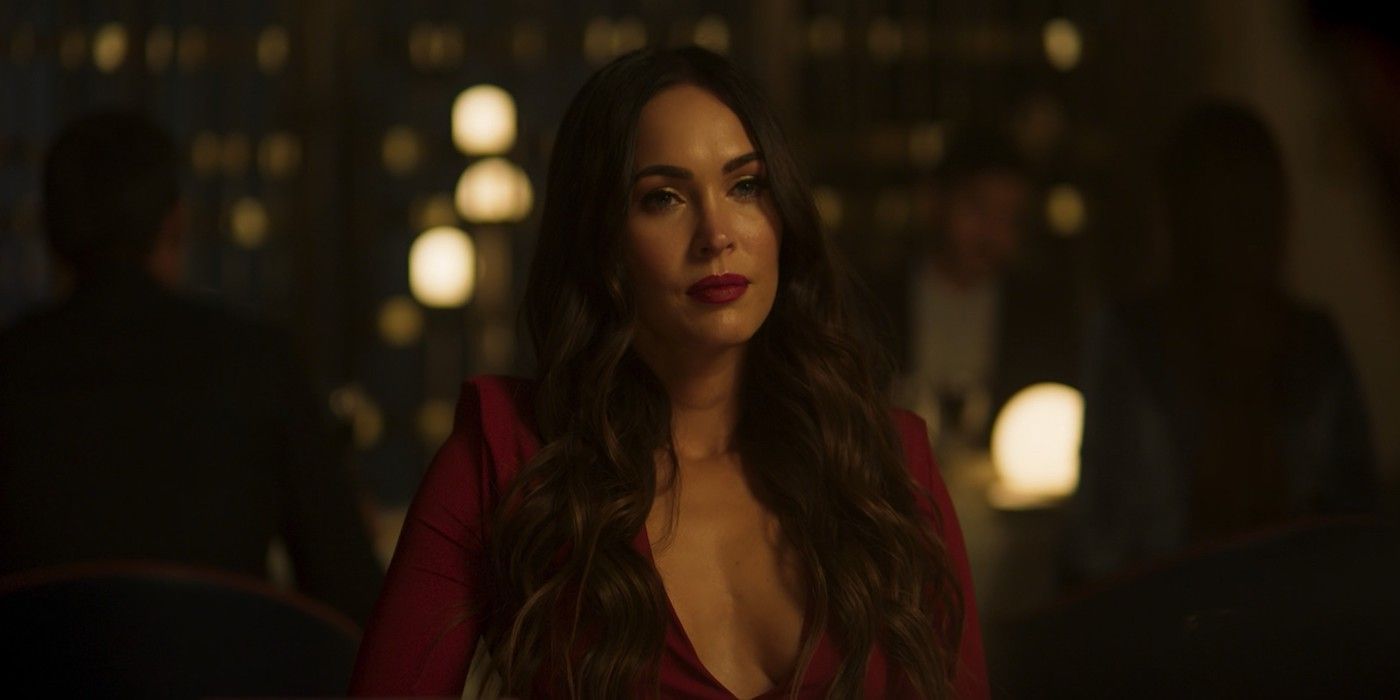 Megan Fox has had some great success playing darker characters on screen, and it looks like she is doing it again in her new movie Johnny and Clyde. Based on the legendary criminal duo of Bonnie and Clyde, the film will put a supernatural spin on the story and sees Fox going silvery-blonde to play a casino-running crime boss who may not be one that serial killing duo Johnny and Clyde may want to mess with, as the actress herself hinted that her character could have more than the luck of the devil on her side.
According to Deadline, the film is a "spin on the iconic Bonnie and Clyde story follows two serial killers who are madly in love and on a shocking crime spree. They ultimately set their sights on robbing a prosperous casino run by a crime boss, Alana, and her head of security, Guy."
MOVIEWEB VIDEO OF THE DAY
Courtesy of Redbox Entertainment
The first released image from the movie shows Fox lounging in a leather chair with her yellow-stiletto'd feet up on the desk just waiting for someone to dare take her on. Fox previously teased her new look in an Instagram image showing off her changed image for the role which she commented on saying, "This is what the devil's daughter looks like."
Fox plays the role of crime boss Alana in the movie, who will find her casino becoming a target for Avan Jogia and Ajani Russell playing the titular duo. While the real-life criminals of the 1930s act as an inspiration for the title characters, there seems to be very little else that has a connection to them, as according to co-writer and star Nick Principe, the film very quickly changes from a heist movie to a "balls-to-the-wall spooky supernatural slasher", with Fox taking on the role of a "very dark character."
Megan Fox's Johnny and Clyde Role is a Like a Twisted Disney Princess
Director Tom DeNucci previously explained that the character of Alana is going to be one that will see Fox playing a "messed up" take on a Disney princess. He said, "Megan Fox's character is very dark. I don't want to give away too much, but visually we wanted her to almost be like a Disney princess, but a messed up, very dark, twisted version of that. Her look is just incredible … this kind of almost evil princess character. I went into a weird kind of Disney path."
Of course, this will not be the first time Megan Fox has taken on a dark role, having previously gained a lot of praise for her appearances in Jennifer's Body and the Netflix movie Night Teeth, and Johnny and Clyde seems set to give her another horror orientated movie on her CV.
Also starring Preacher's Tyson Ritter as casino head of security, the movie is currently filming and was recently picked up by Redbox Entertainment to be released in theaters and on day-and-date release on demand, although no date has yet been confirmed. Expect to see more from the film as we get closer to a premiere date being announced.
Megan Fox Fans Want Her as Poison Ivy in the DCEU
Read Next
About The Author
Anthony Lund
(1829 Articles Published)

Anthony Lund is an author, songwriter and puppeteer from a small village in the U.K. with an avid love of all genres of TV and film. As well as keeping up with the lastest entertainment news and writing about it for MovieWeb, he works as a video editor, voice over artist and production designer. A child of the 80s, he is the owner of almost 2000 books, more toys than his children, three Warner Bros. Store Gremlins and a production used Howard The Duck movie script.
You can view the original article HERE.