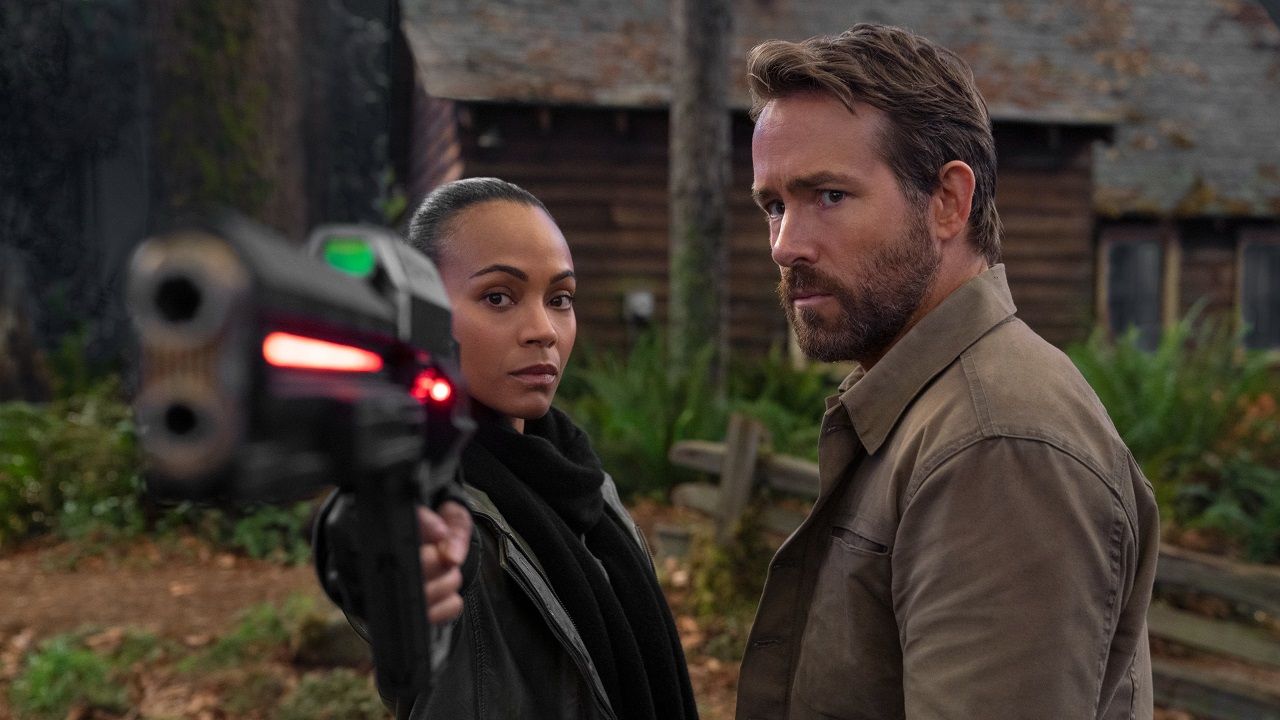 A pilot from the future travels back in time and teams up with his younger self. The Adam Project is a passable science fiction adventure with good cast chemistry and visual effects. Star Ryan Reynolds trademark sarcastic delivery gets a worthy accomplice with young Walker Scobell. Their sharp back and forth, along with solid action scenes, make up for a disjointed script. The time travel aspect has logic holes you can drive a truck through.
In 2050, fighter pilot Adam Reed (Reynolds) steals a high-tech jet with the ability to create quantum wormholes. He's injured during the heist and misses his target date in the past. In 2022, Young Adam (Scobell) is a pint-sized smart-aleck who gets pummeled by bullies on a daily basis. His exasperated mother, Ellie (Jennifer Garner), begs him to watch his mouth. He shrugs off her advice with a feisty retort. Both are still grieving over the loss of Adam's father, Louis (Mark Ruffalo), in an accident.
MOVIEWEB VIDEO OF THE DAY
Young Adam hears a commotion in the forest behind his house. He returns to his father's work shed to find a bleeding future Adam. He's floored to learn his older self is handsome, muscular, and stocked with incredible gadgets. Future Adam tries his best to keep the details of his mission secret. He was aiming for 2018. Future Adam needs to heal and repair the jet before making another jump. Their time runs out when future industrialist Maya Sorian (Catherine Keener) and her armored goons finds them.
What Works In The Adam Project
Let's start with what works. Walter Scobell is hilarious as a runt tired of getting his butt kicked. The poor kid is repeatedly beaten bloody by punks. The idea that he grows and beefs up is a dream come true. Ryan Reynolds gets equal laughs for the opposite reason. He despised his childhood weakness. Getting bullied was just one of many problems. Future Adam hates himself for treating his mother poorly. And holds a grudge against his father for caring more about his job. The family reconciliation subplot has emotional depth. The ensemble cast succeeds in being humorous and heartfelt.
Future Adam has an important reason for his quantum escapades, but the script makes little sense in its use of the technology. Characters pop up like time travel whack-a-mole. They inexplicably converge at Young Adam's house. The baddies could literally go back at any point in the past to stop Adam. The 2022 setting is just a set-up for them to get thrashed. You could argue paradoxes all day with the inadvertent changes to the timeline. The Adam Project doesn't want you to think about the plot's mechanics.
Related: The Adam Project: Cast, Plot, Release Date, and Everything Else We Know
The action scenes draw heavily from other popular sci-fi franchises. Future Adam fights with an extendable baton that's pretty much a lightsaber. The intellectual property suits must have cleared its use. The aerial dogfights reminded me of the jet chases from Independence Day. Catherine Keener's antagonist has subordinates with invisibility cloaking armor. They attack like the Jem'Hadar soldiers in Star Trek: Deep Space Nine. It all looks great but is definitely not original.
The Adam Project can easily be picked apart. The film does not hold up to scrutiny, but a likable cast goes a long way. Walker Scobell holds his own against talented comedic actors. I'll speak an honest truth for all the sci-fi nerds out there. Awesome lightsaber battles, in any form, are worth seeing.
The Adam Project is a production of Skydance Media and 21 Laps Entertainment. It will have a March 11th global streaming premiere exclusively on Netflix.
Cameron Diaz Says Fame Is 'Infantilizing' and Laden with 'Heavy Misogyny'
Read Next
About The Author
Julian Roman
(1476 Articles Published)

Julian Roman has been with Movieweb for nearly twenty years. An avid film buff, he feels lucky to have interviewed and written extensively about Hollywood's greatest talents. In his spare time he plays guitar, treasures good company, and always seeks new adventures.
You can view the original article HERE.