Who else but hosts Wendy Stuart and Tym Moss could "spill the tea" on their weekly show "If These Walls Could Talk" live from Pangea Restaurant on the Lower Eastside of NYC, with their unique style of honest, and emotional interviews, sharing the fascinating backstory of celebrities, entertainers, recording artists, writers and artists and bringing their audience along for a fantastic ride.
Donna Florio will be a featured guest on "If These Walls Could Talk" with hosts Wendy Stuart and Tym Moss on Wednesday, May 12th, 2021 at 2 PM ET live from the infamous Pangea Restaurant.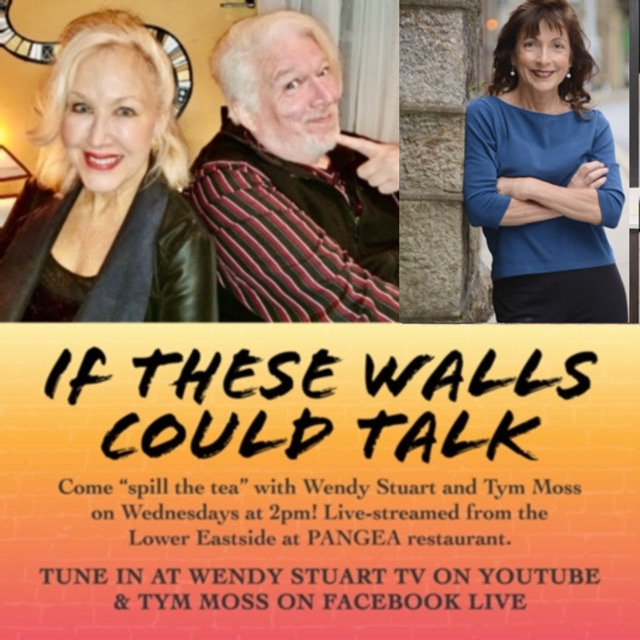 Wendy Stuart is an author, celebrity interviewer, model, filmmaker and hosts "Pandemic Cooking With Wendy," a popular Youtube comedic cooking show show born in the era of Covid-19, and TriVersity Talk, a weekly web series with featured guests discussing their lives, activism and pressing issues in the LGBTQ Community.
Tym Moss is a popular NYC singer, actor, and radio/tv host who recently starred in the hit indie film "JUNK" to critical acclaim.
Growing up, Donna Florio had flamboyant, opera performer parents and even more free-spirited neighbors. As a child, she lived among beatniks, artists, rock musicians, social visionaries, movie stars, and gritty blue-collar workers, who imparted to her their irrepressibly eccentric life rules. The real-life Auntie Mame taught her that she is a divine flame from the universe. John Lennon, who lived down the street, was gracious when she dumped water on his head. Sex Pistols star Sid Vicious lived in the apartment next door, and his heroin overdose death came as a wake-up call during her wild twenties. An elderly Broadway dancer led by brave example as Donna helped him comfort dying Villagers in the terrifying early days of AIDS, and a reclusive writer gave her a path back from the brink when, as a witness to the attacks of 9/11, her world collapsed. These vibrant vignettes weave together a colorful coming of age tale against the backdrop of a historic, iconoclastic street whose residents have been at the heart of the American story.
Watch Donna Florio on "If These Walls Could Talk" with hosts Wendy Stuart and Tym Moss on YouTube here: